"Is India ready to face its moment of truth?": the hullabaloo over Indian reality TV
"Not happy with just invading our bedrooms, reality TV now wants to pry open our deepest, darkest secrets… Is a conservative, often hypocritical society like India ready to have its ugly secrets stumble out of the closet?"
Can You Handle the Truth? Headlines Today, July 16 2009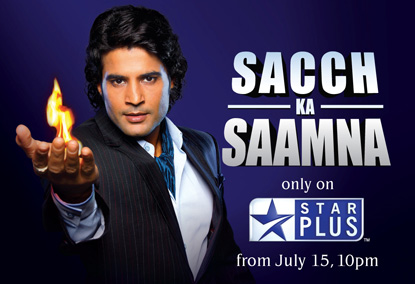 Within literally a day of its debut, Sach ka Saamna (Facing the Truth), the Indian version of the reality show Moment of Truth, was already in the news. The show's first participant Smita Mathai, an epitome of middle-class respectability, had failed the "sach ki agnipariksha" ("the ultimate test of truth") when she denied that she entertained thoughts of extra-marital liaisons. According to the polygraph test, she was lying. As Mathai, with an incredulous look, vehemently protested, "Rubbish!" and insisted, "No, this is not true," her husband seemed to be in shock – his "nice Indian wife," who had put up with his alcoholism, had not only admitted on national television that she had wanted to kill him, but also that she would sleep with another man if he never found out. [Though the show is mostly in Hindi, questions are repeated in English and Mathai's responses were mostly in English too.]
In the succeeding weeks, more shockers followed – a respected 60-something television actor admitted that he had an illegitimate child; a newly-married husband acknowledged that he would have an affair if his wife never found out; a young Muslim woman admitted that she had been intimate with other men after her engagement; yet another "nice Indian wife" confessed her extra-marital affair – for Indian television viewers, unaccustomed to Oprah-esque confessional talk shows, Sach ka Saamna represented a problematic novelty.
As parliamentarians debated over the cultural threat posed by the show and whether it violated the constitution, psychologists pondered over its "long term effects," news channels discussed if reality TV "promoted voyeurism" in Indian society, and the High Court debated whether Indian culture was strong enough to withstand the onslaught, viewers gleefully tuned in to watch contestants face their moment of truth and squirm uncomfortably in their seats. For the News Corp.-owned Star Plus, Sach ka Saamna promised to bring back its glory days. After nine years as the numero uno in the Hindi GEC (General Entertainment Channel) segment, Star had lost its stronghold to the new entrant Viacom-owned Colors and old rival Zee TV. Moreover, with its slew of mother-in-law & daughter-in-law sagas, the channel had become branded as a 'regressive' network. Sach ka Saamna was Star's attempt to reposition itself, particularly in response to the changing television audience demographic. As Star's Executive Vice-President, Marketing and Communications, Anupam Vasudev remarked, "Today, the larger group of the Indian audience has got younger. Audiences have moved away from demanding regressive content to content that evokes an open belief system."
However, in spite the high TRPs (Television Rating Points) and Star's contention that the show was modeled on Gandhian principle of truth and honesty – Satyamev Jayate (Truth Alone Triumphs), Sach ka Saamna had to make an early exit only after two months of its debut. The government slapped a show-cause notice on the channel for "offending good taste and decency, (showing what is) not suitable for unrestricted public exhibition, and for obscenity in words." Moreover, the show seemed to be attracting attention and headlines for all the wrong reasons – a woman committed suicide after watching the season finale and husbands became obsessed with replaying the truth-or-dare game with their wives, often with disastrous consequences. Though the channel honchos are hopeful about Sach ka Saamna's return, actor Rajeev Khandelwal, who had received favorable reviews as the host, has already distanced himself from the controversial show. However, knowing Indian television's current penchant for format and reality shows, Sach ka Saamna, in spite of all the controversy, might just make a comeback.
Like it, or hate it, reality television seems to have the Indian television viewer hooked.