Alert: We Want Spoiler Alerts…Or Do We?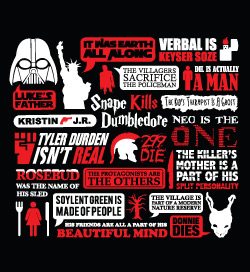 On Tuesday, November 9, Jace Lacob of Televisionary put up a post regarding the topic of spoilers. The author was sounding off in reaction to a comment he received on that morning's post for The Daily Beast—one in which he interviewed Mad Men creator Matt Weiner about the series' season finale (which aired Sunday, November 8). A Daily Beast commenter, "overdue," ranted: "Hey Jace Lacob, have you ever heard of alerting your readers with "Spoiler Alert"?!?!?! Thanks, I'm only on the 6th episode of this season, now I guess I don't need to watch anymore? Really, is it asking too much for you to say "Spoiler Alert" at the head of your article?"
Overdue's admonishment set off a string of replies and, of course, Lacob's longer response on Televisionary, in which he claims that "spoilers" aren't spoilers if the episode in question has already aired. Moreover, he and his defenders argue that the post title "Mad Men Postmortem" should indicate to any reader paying attention that information about the season finale would be part of the forthcoming content. Those criticizing Lacob counter that the lead of the story, visible "above the fold," reveals a few crucial plot points. (I'll leave out what it said, precisely, because…um…spoiler alert…but you can see it by clicking the link to Lacob's Daily Beast post above.)
Ultimately, the debate comes down to a handful of questions:
1) Is "spoiler" an accurate term when you're talking about episodes of TV that have already aired (or, I would add, films which are in release)?
2) Do those who write about media have a responsibility to clearly proclaim their writing contains information that reveals crucial plot points of a TV series or film?
3) If so, for how long after airing/release should the public expect such a warning? An hour? Week? Year? Decade? (In other words: is it spoiling to tell someone that Soylent Green is made of people, or that Darth Vader is Luke's father? Oh. Um…oops. Spoiler alert!)
What do you think?