Review: The View From The Afterparty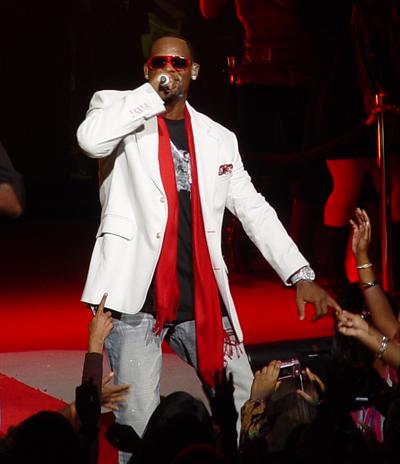 A Review of R. Kelly's Ladies Make Some Noise Tour
Milwaukee Theater, Milwaukee, WI, November 15, 2009

By Megan Biddinger and Christopher Cwynar
R. Kelly has been in the news of late for his alleged indiscretions, his outlandish serialized 'Hip Hopera' Trapped in the Closet, and the baroque 'sexaphors' that drive his self-reflexive club jams. However, to roughly paraphrase Peter Lehmann, there are many R. Kellys. This was apparent last Sunday night as the more salacious Kelly took a backseat to an earnest and grateful Kelly. To be sure, Kelly interpellated the ladies in the audience as objects of desire, but his sex jams were only part of a setlist that offered a full retrospective of his seventeen-year career. Kelly exhorted the ladies to make some noise at regular intervals, but he also invited his most dedicated fans to share his appreciation for the opportunity to continue making music.
If the show was a bit restrained, it certainly did not want for energy or involvement. A savvy performer, Kelly understands that the performance of fandom is a vital part of a large-scale R&B/Soul show. Kelly repeatedly asked the audience to scream and to sing choruses, and almost as often, he would point the mic towards the crowd and the fans would lustily sing entire verses back to him. These extended exchanges effectively turned the theater into a collaborative space, allowing fans to participate in the spectacle they had come to witness, and to collectively embody the icon they had come to worship.
This was exemplified by Kelly's performance of 'Contagious', his duet with Ronald Isley. Here, Kelly took Isley's lines and let the crowd take his own verse. This move encouraged concertgoers to become Kelly, and simultaneously allowed Kelly to adopt the role of Isley, establishing his position within a certain R&B/Soul tradition.
This tradition and Kelly's rightful place within it comprised the focus of the show's final segment. After moving through some high-energy medleys, a few entertaining skits (including an operatic shout-out to the 'little booty girls' in the audience), and some extended slow jams, the self-proclaimed "King of R&B" moved to establish a serious claim to his throne.
After the Isley collaboration, Kelly offered a videotaped tribute to Michael Jackson, for whom he wrote "You Are Not Alone". In referring to Jackson's passing as the loss of "our musical breath", Kelly alluded to a particular cultural tradition shared by many in the audience. Although some observers might have approached this moment in terms of the similar extra-musical aspects of their careers (i.e. similar legal troubles), Kelly framed it in terms of friendship and community in the context of R&B and Soul music and the significance of those musical traditions to African American culture.
Kelly drove this point home by transitioning to an earnest tribute to Sam Cooke that he dedicated to his late mother, Joanne. Performing "Bring It On Home To Me" and "A Change is Gonna Come", Kelly showcased his skills as a pop ventriloquist while subtly establishing his position as a keeper of the Soul music flame and heir to the legacy of performers like Cooke, Jackson, and the Isley Brothers.
From there, Kelly unleashed the confetti canons and sent us on our way with a brief Midwestern dance party to "Step in the Name of Love" and "Happy People". These joyful numbers, steeped in middle-class respectability, underscored the fact that, though Kelly is often portrayed as a menace or a joke in the mainstream media, he is a chameleon who is equal parts comic, loverman, and reverend. Kelly's longevity is likely a function of his ability to re-configure these elements for a fan base interested in all of the many R. Kellys on display.
Can we get a toot toot?
(beep beep)