What Do You Think? Holiday Episodes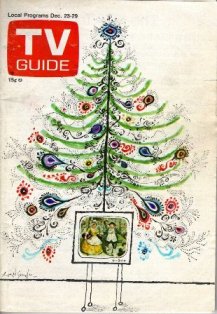 It's December, TV fans, and you know what that means: holiday-themed episodes. Now, we're not talking about holiday specials like "Merry Christmas, Charlie Brown"–we're talking about when your favorite TV characters celebrate the holidays to hilarious or moving effect.
What are some of your favorite TV holiday episodes? They can be episodes that aired last week or in 1952–it doesn't matter! Weigh in with your favorites in the comments. To get you started, here are four of my personal picks!
Seinfeld–"The Strike" (1997) This holiday episode brought us Festivus, a holiday that the Seinfeld canon tells us was developed by George's father, Frank Costanza, in response to the commercialization of Christmas and Hanukkah. The holiday was actually developed in 1965 by writer Dan O'Keefe, but most of us only know Festivus and its aluminum pole (replacing the traditional tree) from the Seinfeld crew. It's a Festivus for the rest of us!
Felicity–"Finally" (1998) In this first season episode, Felicity and Noel attempt to put off defining their new romance in order to study for finals. (Of course, they can't possibly study because they're too busy making out.) What makes the episode so great is the efforts to cut together related but individual storylines involving the entire ensemble, mirroring the hectic experience of studying for college finals. The highlight of this episode, though, is when Noel takes some of the "Smart Powder" being distributed by Felicity's roommate Meghan and has an allergic reaction. His crazed misunderstanding of Felicity's interaction with Ben makes for some festive hilarity, and makes this a memorable holiday classic.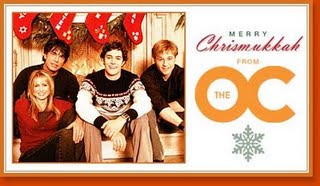 The OC–"Best Chrismukkah Ever" (2003) The OC became relatively well-known for its annual Chrismukkah episodes, and the series even launched its own holiday-themed album (one I highly recommend). Of the series' four holiday eps, though, the first was the best. Ryan's very own Cohen-family Chrismukkah stocking! Anna & Summer fighting over Seth! Marissa getting drunk (again)! Jesus & Moses working together to perform a Chrismukkah miracle! What more could you want?
The Office–"A Benihana Christmas" (2006) The Office has had a few memorable and entertaining holiday episodes, but my favorite is an hour-long episode in which Michael is dumped by his girlfriend, Carol. To cheer him up, the guys take him to Benihana, where the boss drinks too much and ends up bringing two waitresses back to the office Christmas party. Hijinks ensue, as they do at Dunder-Mifflin, and the highlight, in my opinion, is the moment Michael marks one of the waitresses with a marker because he can't remember which of the two potential paramours is "his" and which is Andy's.
There are certainly lots of others–many classic TV episodes I've left off the list, and I haven't chosen any mid-season cliffhangers–but these four are among my favorites. So now it's your turn–what are some of yours?
Psst! Need some inspiration before chiming in? Check out this awesome listing of full holiday eps available online!