The NBC Late-Night Train Wreck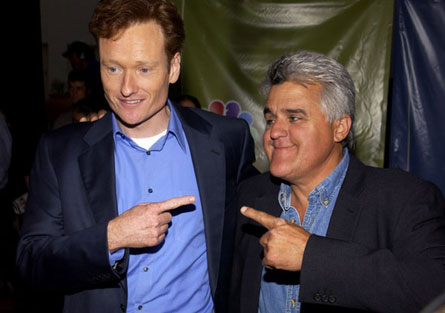 Big headlines, but no real surprises this week when news leaked that NBC is finally ready to raise the white flag on its bumble headed talk show musical chairs experiment. The failed effort to move late-night into prime time (cost savings) and move late-late night audiences into higher paying ad slots was an interesting one on paper, but much less so to viewers who watch and actually enjoy talk television. What is yet to be seen is whether this will become one of the biggest mistakes by a corporation in completely destroying a successful franchise/brand in history. Coca-Cola survived the "New Coke" experiment, but the verdict is still out on NBC and its "Tonight Show" franchise. More likely than not, the victim will continue to bleed for another couple of years, and eventually, the "Tonight Show" brand will return to its old levels of popularity and profitability.
The reasons it will survive are numerous, including the fact that with the exception of Comedy Central, the cable nets aren't providing anything in the way of serious competition to network talk shows. More importantly is history. Even for younger generations (especially as they grow older and become less cool conscious and more boring in their routines), NBC and CBS are simply where one turns for this form of entertainment.
And that, of course, is the point that NBC seemed to miss with this failed experiment–the very particular role that talk shows play in viewers' lives. With notable exceptions, the late night talk show has been a tremendously stable form of television entertainment, with changes coming very gradually and more reflective of cultural sensibility than artistic creativity.  Simply put, audiences have historically tuned in for two reasons. The first is content–a regular diet of 1) a host-persona they are attracted to (this being most important), 2) a steady diet of celebrities and people in the news as guests, 3) some music, and 4) an occasional comedy sketch or public oddity. That's it. But while that is also what "The Jay Leno Show" and "The Tonight Show" continued to offer during NBC's juggling act, NBC violated the second component: daypart. When it comes to cable nets, dayparts are really irrelevant (think Comedy Central or HBO, for instance). But for most viewers, dayparts are what defines broadcast networks. We know where to look and when for a very particular form of routinized pleasure. And when that changes, we often don't like it (this can even include our finickyness when the networks move a Sunday night drama to Tuesday night).
But it is the interrelationship between these two central components of late-night talk–the hosts/content and the time-slot/routine–that was violated in the NBC decision. Leno simply isn't prime time, just as Conan isn't early late-night (not to mention that Conan is New York, not L.A.). Perhaps NBC just didn't run this through enough focus groups, or failed to do so properly. But one would hope that with such a dominant role the network has played in creating this relationship to viewers to being with, it would "understand" both itself and its viewers better by this point in the history of television.