THWIP!+CTRL+DEL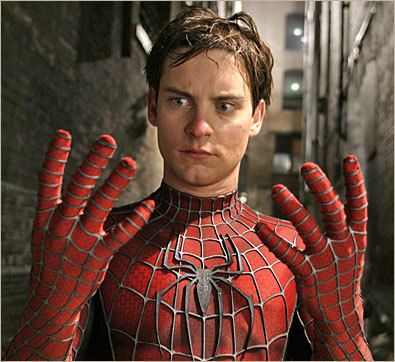 Yesterday, Sony Pictures announced its decision to scrap plans for Spider-Man 4 and instead develop a new, recast film that returns Peter Parker to his high school origins.  Clearly, Sony hopes to capture the same success enjoyed by films like Batman Begins, Casino Royale, and Star Trek that discarded existing storytelling continuities in order to revert to more accessible, flexible origin stories.  Only 8 years into the Spider-Man film franchise, however, Sony's move seems a little hasty.  Why reboot Spider-Man?
Spider-Man 3 arguably demonstrated director Sam Raimi's inability to freshen his take on Spider-Man; amid rehashes of Peter's conflict with Harry, rocky relationship with Mary Jane, and guilt over the death of Uncle Ben, the elements that were actually new  felt wildly out of place (song and dance number, anyone?).  Hollywood reboots, however, aren't necessarily responses to declines in quality.  Sure, Batman & Robin, Die Another Day, and Star Trek: Nemesis were all pretty horrific films, but it's naive to suggest that studio developers embraced change out of some sudden commitment to good filmmaking.  Neither, however, would it be accurate to say reboots necessarily follow in the wake of economic failure.  With the exception of Nemesis, the films that predated the aforementioned reboots, including Spider-Man 3, were all money makers.
What this Spider-Man 4 debacle demonstrates instead is that the reboot can be just as much about intervening in an unruly development process asreigning in unruly, unmanageable story continuities.  To extend the "ALT+CTRL+DEL" metaphor of the reboot perhaps a bit too cutely, the alternate versions and narrative deletions underscoring this kind of franchise management are often about maintaining control over the property.  Reboots not only reorganize storytelling resources, but also the hierarchies and labor structures making use of them.  With Sony, Raimi, and star Tobey Maguire all interested in but at potential odds over the ongoing development of the franchise, a reboot is Sony's most viable means of seizing back the creative reigns.  Sure, Sony could make a Spider-Man 4 without Raimi or Maguire, but they'll be in a better position to fill that creative labor void by offering new talent a clean slate in which to work.  In the similar case of Universal's The Incredible Hulk, a reboot that followed only five years after 2003's Hulk, director Louis LaTerrier claims in the DVD special features that he only pursued the project once promised freedom to break from the first film and redevelop the property.  So while Sony might seem hasty in similarly abandoning Raimi's existing foundation for Spider-Man, it is likely a prerequisite for reorganizing creative labor.
Moreover, as Variety points out, Sony does not have the luxury of time.  It must proceed ahead, lest its licensed right to the character revert back to owner Marvel Studios, for whom Spider-Man would prove an invaluable resource in its current attempts to  build a shared Marvel Universe across its self-produced Iron Man, Hulk, Thor, and Captain America films.  Sony clearly isn't sure how to make a Spider-Man 4, and it doesn't have time to keep trying to figure it out with Raimi.  It does, however, know how to make a Spider-Man 1, and a reboot therefore offers the best chance of holding on to and successfully leveraging the property as a tenant without losing it to Marvel the landlord.
So while we might first think of reboots in terms of their rather extreme impact on ongoing narrative series, that effect may only be a secondary consequence of the labor and licensing relationships that Hollywood studios, property owners, and for-hire creators need to negotiate in development.