Why Palin Going to Fox News Makes No Sense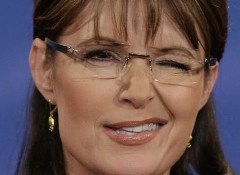 When news broke yesterday that Fox News has hired former Alaska governor Sarah Palin as a commentator, the air of inevitability seemed to drip from many observers' tongues. One headline shouted "Fox News Hires Sarah Palin as Commentator Because Of Course They Do," while the New York Times simply noted that "many suspected that when Ms. Palin retired as the governor of Alaska last summer she was doing so to pursue some sort of career in television."
I understand why Fox would want her, and I understand why some people might see this as naturally as seeing Darth Vader returning to the Death Star after his pursuits throughout the galaxies. But upon reflection, it actually doesn't make much sense if you are Sarah Palin or if you wish to see Palin elected to the presidency. The reason why is that television is not her best medium. With few exceptions (her Republican Party nominating convention speech being foremost among them), television has not been kind to Palin. Whether we are talking the early news interviews with Gibson and Couric or more recent ones on Fox News, or whether we look at the Saturday Night Live parodies or even her appearance on the program, she simply performs poorly in the medium.
She was, of course, a sports anchor years ago at a local news station, so the medium isn't unfamiliar to her. And given her relative attractiveness, many viewers will go with appearances over substance. Nevertheless and more often than not, when she appears on television, she comes across looking like the bumbling airhead she is. Witness her appearance on Oprah, for instance. When asked about Levi Johnson, she could not have been more rambling and incoherent. In her interview with Bill O'Reilly, when asked if she was smart enough to be president, so comes off looking worse than George Bush:
O'REILLY: Do you believe that you are smart enough, incisive enough, intellectual enough to handle the most powerful job in the world?
PALIN: I believe that I am because I have common sense, and I have, I believe, the values that are reflective of so many other American values. And I believe that what Americans are seeking is not the elitism, the kind of a spinelessness that perhaps is made up for that with some kind of elite Ivy League education and a fact resume that's based on anything but hard work and private sector, free enterprise principles. Americans could be seeking something like that in positive change in their leadership. I'm not saying that has to be me.
If Palin and her supporters have ambitions for higher office, she needs to employ the same strategy used by the Bushies prior to W's election in 2000—keep her as far away from television cameras as possible.
The perfect medium for Palin, though, is digital/mobile media such as Facebook and Twitter, which she has used very adroitly over the last year. She is limited in what she can say with the comments, needing little in the way of substance to attract media attention. In the process, she can fuel the flames of any fire with such few words. Most importantly, these media give her supporters just what they want—the whiff of greatness and the brevity of appearances that so often sustain celebrity. Perhaps her commentator role on Fox can achieve the same result. But she does run the risk of allowing television as medium to display a bit too much.