Smells Like an Ethnically Divided Teen Star System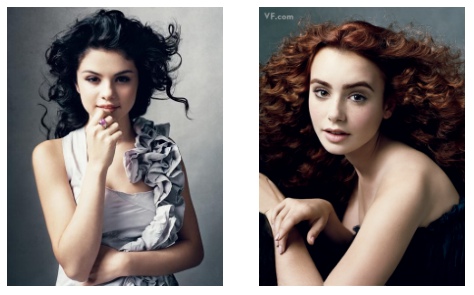 I was perusing this month's Vanity Fair (drawn in, admittedly, by the racialized, sexed-up photo of Tiger Woods on the cover, but that's a different post), and came across a photo of another star I've found of interest of late, Selena Gomez. I'm fascinated with the selling of Gomez, a teen actress of Mexican and Italian American heritage who plays a half-Mexican teen wizard on Disney Channel's Wizards of Waverly Place. Given the rising proportion of Latinos in the U.S. population and particularly among American youth— one in five youth under 18 and one in four children under 5 are now Latino— I view Gomez as one of Disney's strategic maneuvers in response.   While much could be said about contemporary Latina representation in relation to Gomez's appeal to the American public, one thing I find most interesting is how she's being promoted. She's clearly being groomed for greater stardom through the activities of what might be called a neo-studio system of teen stardom, such as Lindsay Hogan Garrison has described in her research.
It wasn't just this that struck me in the Vanity Fair photo spread, which featured Gomez, her fellow Disney-ite Vanessa Hudgens of High School Musical fame, and four other young actresses, however. Notably, the photos of the six actresses, all trumpeted as stars on the verge, were displayed in such a way that Gomez, Hudgens, who is of partial Filipino, Chinese, and Native American descent, and Zoë Kravitz, the daughter of biracial actress and musician Lisa Bonet and Lenny Kravitz, were positioned on pages opposite lighter skinned, "white" actresses Lily Collins, Isabel Lucas, and Amber Heard. The editor who chose to display the photos in this manner might argue it was simply artful to play up contrasts.  And it's not to argue that the "ethnic" stars have particularly dark skin (this is Hollywood, after all), just that they are racialized as not exactly white, and the positioning next to "whiter" stars makes this assertion stronger.  Moreover, the juxtaposition eerily echoes the way in which leaked gossip in 2008 characterized Selena Gomez and Hannah Montana actress and singer Miley Cyrus (the arguably All-American daughter of country singer Billy Ray Cyrus) as unfriendly rivals and ultimately positioned Gomez and purported BFF Demi Lovato, another Disney actress and singer also of half-Mexican heritage, in a separate camp from their more EuroAmerican counterparts at Disney.  Is the conglomerate thinking of teen celebrity promotion in relation to ethnic blocs? If so, I wonder how executives might refer to these different stables of triple-threat wonders.  "All-American" versus, say, "E.A."?  Gomez, Lovato, and Hudgens would certainly fit the moniker E.A., an acronym coined by journalist Ruth La Ferla to describe the new generation–Generation E.A., for Ethnically Ambiguous, in which youth are increasingly mixed and the rise of mixed-race actors and models has followed.  Edward Wyatt similarly has trumpeted "Generation Mix" in relation to increasing diversity in Disney and Nickelodeon programming and films.  Perhaps promoting mix is fine by the studios, as long as the centrality of whiteness is preserved through a parallel track of star promotion.