The Role of the Media in Times of Crisis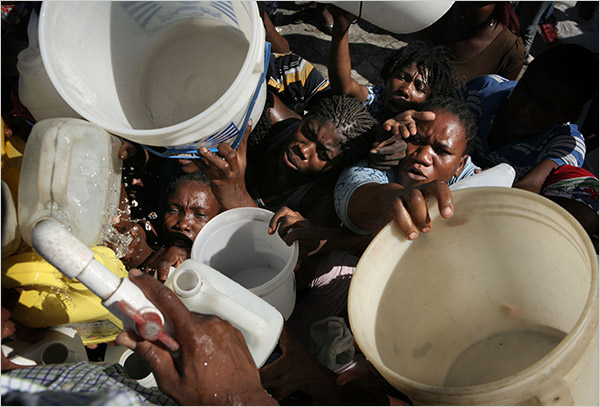 I really hate US television news. I detest its lack of historical context and investigative journalism, and its drive for ratings through fantastical and voyeuristic stories. There are moments, however, when I turn to television news to provide the visual, immediate, and ongoing coverage of stories not easily gained through newspapers, radio programs, or the Web: moments like 9/11, the Indian Ocean tsunami, Hurricane Katrina, the Kashmir earthquake and now the earthquake in Haiti. Many American television journalists, like Brian Williams, Katie Couric, Diane Sawyer, and Anderson Cooper, arrived in Haiti before much of the "relief effort" arrived. Like many of you, I have watched the coverage with my jaw dropped, overwhelmed and distraught by what these journalists have shown me.
Once the initial shock wore off, I wanted more information about Haiti, and the television news hater in me returned. Much of the television coverage has lacked historical information about Haiti and its relationship to the United States, focusing instead on images of flattened buildings, suffering people and stories of survivors searching for loved ones. I was truly appalled when I watched Anderson Cooper place a microphone deep into a demolished building to allow viewers to hear the screams of the 15-year-old girl trapped in the rubble. More recent stories have turned to death counts and plans for rebuilding.
The US television coverage of Haiti has me thinking about the role of media in a humanitarian crisis. Certainly the coverage we receive in the US is to serve the American viewing public. This coverage has no doubt encouraged Americans to donate the more than $100 million the American Red Cross has received through text-messages (don't get me started about slackitvism). So we can argue that US television news indirectly has helped give aid to the Haitian people for medical care, food, and shelter, but how can the media benefit Haitians more directly?
Pondering this, I came upon an article in the New York Times that discussed the role of radio in Haiti (radio is Haiti's most popular medium due to widespread illiteracy and lack of electricity). One station in particular, Signal FM in Port-Au-Prince has broadcast 24 hours a day nonstop through the earthquake to get critical information to their audience: remarks from Haitian President Rene Preval, details necessary for locating aid, and lists of the names of the missing. Internews, an international media development organization, is working with local journalists in Haiti to restore radio stations damaged by the earthquake and to produce programming to help Haitians receive humanitarian information. The organization argues that "strong, effective, local media are uniquely positioned to play a catalytic role in engaging communities during an emergency."
I agree that Haiti needs a strong local and national media to weather this crisis and begin to rebuild. But they will also need foreign aid, and as we know, foreign aid is dependant upon information. What will happen in Haiti when the ratings-driving television coverage disappears, when news organizations pull their foreign correspondents (who are too few in numbers these days) to cover other crises? If the United States is going to play a useful part in Haiti's rebuilding, US television news coverage must be ongoing and must work to give the American people a deeper knowledge of Haiti's history and its future needs. We know from our own crisis in New Orleans that the needs of a community do not disappear just because news coverage does. The crisis in Haiti offers US television news a chance to do a bit of their own rebuilding—I really hope they take it.