The Plight of the Rockstar Wife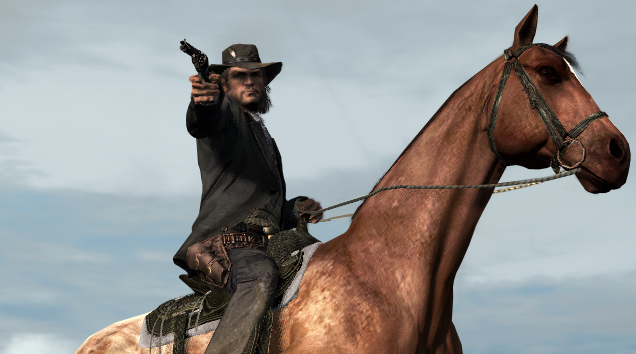 In the past few weeks, a fresh controversy about the working conditions in the industry of game development has arisen, this time centered on Rockstar San Diego.
Rockstar are best known as the developers for the Grand Theft Auto series, with Rockstar San Diego's current project the upcoming western-themed sandbox game, Red Dead Redemption. A sequel to 2004's underrated Red Dead Revolver, and highly anticipated as one of the more interesting open world game settings in recent years (think "Grand Theft Horse"), the game's multiple delays have had fans and industry folks a tad concerned.
In a Gamasutra blog post on January 7th, we see what might be a cause of these delays. A set of anonymous "Rockstar wives" have levied claims of mismanagement and unethical workplace conditions on Rockstar San Diego:
To whomever it may concern,

In response to the unfortunate circumstances, some wives of Rockstar San Diego employees have collected themselves to assert their concerns and announce a necessary rejoinder, in the form of an immediate action to ameliorate conditions of employees.

The turning for the worse came approximately in the month of March of 2009. Till present, the working conditions persists to deteriorate as employees are manipulated by certain hands that wield the reigns of power in Rockstar San Diego. Furthermore, the extent of degradation employees have suffered extends to their quality of life and their family members.

…

Conclusively, if these working conditions stay unchanged in the upcoming weeks, preparation will be made to take legal action against Rockstar San Diego. This is the course that naturally presents itself, as either these conditions were manufactured from unawareness and actions to improve conditions will prove such innocence. Or if no action is seen after this letter, it clear that other aspects are the cause of the deteriorated conditions of Rockstar San Diego employees and must be further addressed. Rest assure, all that is desired is compensation for health, mental, financial, and damages done to families of employees.

With all due respect,

Determined Devoted Wives of Rockstar San Diego employees.
The "Rockstar wives" allege Rockstar San Diego's management has instituted mandatory six day, 12+ hour work weeks, not provided appropriate pay for overtime, and created a culture in which stress is causing very real health problems for its employees (and their families). Rockstar has responded to these claims, and this is, of course, not the first time "industry wives" have been the ones to blow the whistle on allegedly damaging working conditions (the EA spouse scandal, started with a post on Livejournal in 2004, later revealed to be Erin Hoffman). EA's case was resolved after a class action suit, and working conditions have apparently improved.
The underbelly of game development is one that rarely gets much discussion in public or academic discussions of games — assuming the "Rockstar wives" claims are accurate (and there's some off-the-record indication there may be), these sort of claims arise periodically, then spur on "that's just what we do in this industry" rejoinders until another class action suit is brought. It's been six years since Erin Hoffman's scandal, but these sorts of workplaces persist in the game development industry.
Assuming the "Rockstar wives" have something legitimate they're on about, what needs to change about our reaction to this kind of industry scandal? How should news about unethical development conditions temper or shape what sense we make out of a media artifact?