Egregious Product Placement: The Biggest Loser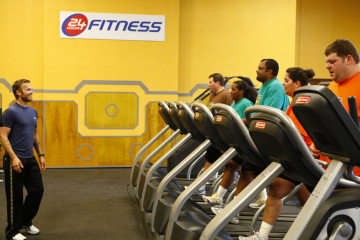 Subway. 24 Hour Fitness. Extra sugar free gum. Ziploc. Muir Glen organic canned tomatoes. All of these have enjoyed prominent product placement within episodes of The Biggest Loser…this season…which is only four episodes long thus far. Biggest Loser's use of such extensive (and obvious) product placement offers an excellent example of promotional practices within reality TV.
Since the early days of radio, broadcasters and writers have asserted that product placement is best suited to unscripted programming (think game shows, talk shows, and now reality TV). The belief is that overt integration of promotions disrupts the narrative flow of scripted programs, when audiences are asked to suspend disbelief for awhile to dwell in an imagined environment. And so we are now more likely to see Survivor cast members competing to win Doritos and Mountain Dew than we are to see the cast of Law & Order interviewing suspects while sipping Diet Coke. Mind you, scripted series have their fair share of product placement (think of Jack Bauer driving a Ford…or Hyundai, this season), but the approach tends to be more subtle than in reality programming. Biggest Loser provides perhaps the most overt product placement I've ever seen (and I've seen a lot). Here are just a few examples from the first four episodes of season 9.
The most recent episode saw trainer Bob take the competitors to Subway for a treat! Because you can get lean protein and complex carbohydrates in Subway subs! And all the veggies you want! They're the perfect pre-workout snack!
Celebrity chef Curtis Stone taught the contestants how to cook a healthy meal, one which integrated Muir Glen organic canned tomatoes. One participant was so enamored of the product, she enthused, "I'm going to put these tomatoes in everything now!"…and then giggled awkwardly.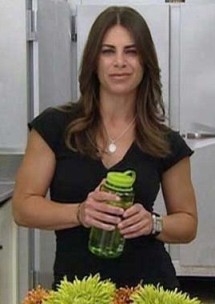 In each episode, trainers Bob and Jillian give the competitors "Trainer Tips" on how to live healthier. Tips have included: chew Extra sugar free gum when you want a treat! When you buy all that great produce, don't let it spoil–put it in Ziploc bags! Everyone needs to drink water when they work out, and it's so easy to do when you have Brita water bottles with a water filter built right in!
There are many (many!) more, and they all include my very favorite element: the awkward interviews with the contestants, who rave and gush over the product and how great it is. (Think: "Boy, this Extra gum really is pretty tasty!" and the aforementioned Muir Glen enthusiastic giggle.) It's not that I don't think the contestants are being sincere, it's just that they're not actors–they're there to lose weight and get healthy. Once put on the spot to work as shills for promotional purposes, they are no longer their ordinary, likeable selves–they become wooden and artificial in a way that offers an extreme disconnect from the personalities on display throughout the rest of the series.
I realize that all of the above makes me sound awfully cynical about these promotional moments, but I don't mean to be. The truth is that The Biggest Loser just presents an extreme and amusing example of product placement on contemporary network TV. Extreme because there's simply so much of it–American Idol's placement of Ford and Coke has nothing on this. Amusing because it's done so artificially–though clearly meant to seem natural, the execution is too fake-y and eye-roll-inducing to come across as entirely organic or sincere. Ultimately, although shows like Idol and Survivor get a lot of press for their product placement, to my mind, there is no greater practitioner of these strategies than The Biggest Loser.