Miss Marigold on Miss America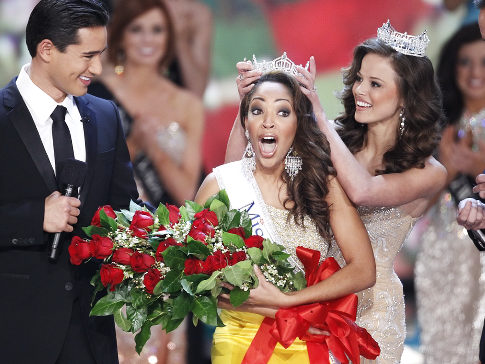 On Saturday night, 23 year-old Caressa Cameron became Miss America 2010, earning $50,000 in scholarship money, a really big crown, and an even bigger anachronistic title.
As a feminist, I have to admit that I am happy to see that the pageant itself is not the spectacle it used to be, pleased that it has moved from network TV to cable, glad that its audience has dwindled, satisfied that the lovely Miss A may no longer be our cultural ideal.  As a former small town beauty queen who demolished a 7-girl-long kick line with one false swing of my sequined Ked, however, I remain nostalgic for her relevance, entranced by her ability to strut to the music clad only in a black bikini and sparkly stiletto strappy sandals, stunned by her brand of feminine grotesque that is matched only by the leering, hyper masculinity of the pageant's co-emcees.  That part of me, the part that relished the weight of the dime store tiara the reigning Miss Marigold slammed atop my own rigid coif, believed Saved by the Bell alum and pageant emcee A.C. Slater (Mario Lopez will always be A.C. Slater to me) when he assured viewers that the evening gown competition was more than a fashion show.  The evening gown competition, he intoned, was just another way for these accomplished young women to reveal their strengths.
And reveal they did– their breasts, their backs, the tops of their toned thighs, along with their ambitions.  During the talent competition, for example, eventual first-runner-up Miss California performed ballet while a pop-up box onscreen told at-home viewers that she dreamed of becoming a pediatric heart surgeon.  This was one of many incongruous moments of the night.  Others included last year's queen in a camouflage evening gown; home video images of the contestants as round, beribboned girls introducing each shellacked, disciplined woman's 90-second talent spot; cleavage baring, swimsuit wearing women blowing tearful kisses to their shiny-eyed daddies; the Miss America organization offering the largest amount of scholarship money to women while asking them to hula dance across the stage to earn it.
In her book The Most Beautiful Girl in the World Sarah Banet-Weiser contends that the Miss America pageant performs important cultural work, linking up notions of ideal womanhood to rhetorics of nationalism and citizenship.  Miss America becomes a particular kind of universal citizen, one defined by gender, femininity, and her  status as a single woman, publicly chaperoned through the brief twilight between her tenure in her parents' house and her eventual arrival at Mrs. America-dom.  Indeed, Slater's Lopez's discussion of outgoing Miss A Katie Stam's year of accomplishments culminated in his announcement of her recent engagement.  Stam flashed a right-hand sparkler at the crowd and flung her arms over head, a triumphant victory for pronatalism and compulsory heterosexuality.
Banet-Weiser points out that contestants not only engage in self-surveillance, they also turn a judgmental eye on each other.  The 2010 pageant dramatized both of these gazes.  Not only did MTV confessional-style videos of the contestants detailing their fears of wardrobe malfunctions and critiquing their own beauty and personality quirks accompany their walks down the aisle, but the women (always called girls by pageant emcees) were invited to sit onstage in open judgment of the finalists, and their own votes– in a Survivor-style twist– chose the 15th semifinalist.
For me, devouring the spectacle from the solace of my sofa,  contestants used these moments of judgment to confront and return the audience's gaze, resisting hegemonic simplifications of themselves even as they fashioned their own images for consumption.  But that could be the old beauty queen in me borrowing the feminist's vocabulary.  As the new Miss A took her first wobbling walk as queen, crushing the heck out of her lavish roses, I wondered has the Miss America pageant overstayed its cultural welcome?