A Post against "post-"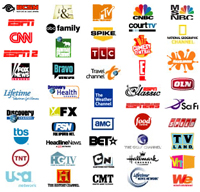 I apologize if this post for Antenna is a bit more "inside baseball" for academics than most posts here, but this seems like a fine venue to air my gripes to an engaged audience of media scholars. I firmly believe that what we call things matters quite a bit, as labeling and categorizing helps forge the way we think about the world. So when I write to argue against the use of a term, I don't see it as a petty quibble, but rather as a significant discussion.
In that spirit, I would like to propose that we banish the term "post-network" from the academic conversation about contemporary television (in a voluntary, non-censorious way, of course).
There's no doubt that television has transitioned into an industrial and technological system distinct from the classic network era that typified the medium's first few decades. And much of the scholarship using the term "post-network" does a great job characterizing these transitions and transformations. But the term itself obscures more than it reveals, and we should search for another label that avoids these pitfalls:
Post-network suggests that networks no longer matter. The recent NBC late night kerfuffle highlights that networks are still central to American television, with the affiliate relationship often ignored but still essential to the industry's operations and profit centers. Can you imagine similar drama and investment in shuffling hosts on a cable channel? National networks still speak to the broadest range of viewers, and still are dominant in our conception of what television is. Thus the underlying assumption with the term post-network is that we've moved beyond networks to a degree that I don't think is warranted.
Post-network doesn't say what it is, but asserts what it is not. Even if you disagree with the previous point and contend that networks don't really much matter any more, what has replaced them? As with other "post-" labels in academia, you need to drape any definition in enough caveats and qualifications as to make it essentially non-descriptive. How much ink has been spilled debating what postmodern means, not as a cultural phenomenon but as a term? We don't need to add to the confusion by using a term that ultimately lacks explanatory power.
Post-network is mired in the past. Rather than talking about the present, the term keeps us focused on the way things used to be. If the point is to highlight how much has changed, we need a term to call attention to those new developments, not the (partially) eclipsed past.
Post-network suggests the end of the line. What comes after the post-network era? If things will change again – and they will – we will need to back-fill terminologically to distinguish between post-network and post-post-network. (And don't get me started on neo- …) Let's avoid this madness while we still have a chance!
As a fairly small academic community, television scholars should be able to come together to devise a better vocabulary that is not mired in the past, that doesn't require redefining years later, and that actually tells us something about how television and media operate today. In my writing, I've used "digital convergence era" to describe the mode of 21st century television – I'm not married to that term, and recognize that convergence as a term has some quibbles and baggage as well. But whatever we use in place of post-network, let's stop planting posts while we can!
So what do you think? Any defenders of the post out there? Or suggestions for what might replace it?