Lost Wednesday: Table Setting
One of my favorite television critics, Alan Sepinwall, ended his review of this week's Lost with this spot-on reflection:
Mainly, though, "What Kate Does" was a table-setting episode. I can see lots of things introduced here paying off interestingly down the road, maybe even as soon as next week, but there wasn't enough meat for the episode to really succeed on its own. I imagine this is one that will play better as part of a DVD marathon, especially for those of us going back after we already know what the 2004 scenes are all about.
Sepinwall's experience resonated with my own, and some recent writing I've done on the differing experiences of watching serials weekly versus in bound DVD boxes. I've always watched Lost as a same-day broadcast, and have had five years getting used to the seasonal rhythms of the show's storytelling. My wife had only watched via DVD, cramming the first five seasons into four months this past fall.
Thus while I enjoyed "What Kate Does" fine enough, her reaction was "did anything happen in that episode?" It is true that episodes like this are more table-setters, moving the pieces around the board for the next big move, than game-changers. And I've long reconciled myself to the expectation that these episodes pop up a couple times (or more) each season – often in Kate-centric stories – where the story is less compelling in the short-term, but there's long-term payoff behind the maneuvers. Based on the previews of next week, getting Sawyer out of the temple to encounter DarkLocke is crucial (and should be fun!), and no doubt Feral Claire will have some action with Jin down the road. But for my wife, this felt underwhelming and new – waiting a week for an episode that lacked payoff, where in the past we burned through such episodes quick enough to see the table setting as part of a whole.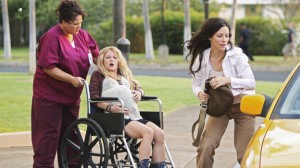 This season's big challenge is that the off-island 2004 scenes lack context for why we should care about them – how do these events relate to our primary interests in the island story? I'm sure they do – and the producers have emphatically asserted that they are not an "alternative universe," a dream, or any other low-stakes asides. But without knowing why they matter, I don't know how to watch them. Should I want all the characters to converge? Might their crash-free happiness be a problem for the island storyline? As is, my pleasure is less in the story than the clever shout-outs to fan memory – seeing Kate and Ethan participate in Claire's pregnancy rewards my season 1 memories, in which each played a different role in Aaron's birth. And seeing Ethan off-island made us pause the TiVo to figure out how he is alive post-Jughead – thanks to Pierre Chang's DHARMA evacuation of course!
So perhaps more than any other season, it seems that the narrative structure of season 6 is expressly designed for rewatching rather than first viewing, requiring a broader sense of the storytelling architecture to guide our emotional engagements. But clearly that's a luxury the Lost producers can afford in this last season, where ratings pressures are absent and the afterlife of the show as a bound 120-hour narrative is on the horizon.
And I haven't mentioned anything about what actually did happen – for me, the most provocative idea was that there is some "infection" that Sayid may have, and that it might well relate to Rousseau's team going all hostile after their close encounter with Smokey. Given that "the sickness" was a first season concept that was mostly dropped, I'm intrigued that it might turn out to be relevant in the end. But adding to my own disappointment was that after last week's Terry O'Quinn powerhouse, Locke was absent in any of his various incarnations, as that aspect of the story is much more compelling to me than the Temple.
Random favorite fanboy moment: Hurley asking Sayid if he is a zombie, clearly alluding to the Darlton podcast trope that the final season of the show will be "the zombie season."