What Google's Experimental Fiber Network Means for Broadband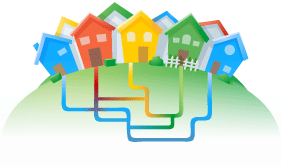 There's been a lot of Buzz about what Google's been up to in the last week or so.  But as significant as Google's move into social networking is, a less talked-about announcement the company made last week is the real big deal: Google's plan to build an experimental 1 Gbps, fiber-to-the-home broadband network is likely to have a big impact on Internet policy in the US, especially net neutrality and broadband stimulus.
The plan is to build an open-access network, with speeds about 100 times faster than those available in most areas of the US, in one city or possibly a few, likely serving between 50,000 and 500,000 homes in total. Spokespeople for the company are quick to
say
that this shouldn't be seen as a full-on dive into the Internet service provision market.  Rather, the network is being billed as a test-bed to explore the capabilities that ultra-high-speed networks could afford, encouraging the development of bandwidth intensive services like streaming HD video, real-time multimedia collaboration, and lots of other stuff that we probably can't even imagine yet.
Google's plan has been interpreted a number of different ways but it seems pretty clear that this is really about more than just giving developers a nice sandbox to play in and some lucky folks freaking fast Internet access. Google is very active in the goings-on at the FCC right now, including leading the advocacy for putting net neutrality principles into binding regulations for ISPs and pushing for open access standards and faster speeds to be part of the National Broadband Plan.  By building this network, then, Google wants to show off to the FCC and ISPs just what an open, neutral, and really really fast network looks like.  This move is consistent with the company's propensity toward big symbolic gestures that can be influential whether or not the stated intentions actually get followed through on: its bid on wireless spectrum in 2007 was really a stunt to encourage open access and the threats to pull out of China (detailed here on Antenna by Liz Ellcessor) have not yet been acted on.  This announcement alone has drummed up the kind of excitement that could work to raise the bar for the broadband deployment plan, which is especially crucial for bridging the digital divide with more than just access, but access that is open, neutral, and as fast as anyone in the world.
Clearly, then, Internet users have a lot to gain from what Google is pushing for here.  But Google certainly does, too: we now depend on Google for more and more of what we do in our online lives (not just Googling, but Gmailing, YouTubing, Mapping, Talking, Reading, Book Searching, Doc'ing, Calendaring, Blogging, and now Buzzing…), so faster access means more using Google services and, don't forget, more of that contextual advertising from which it makes its revenue.  As
Siva Vaidhyanathan
has put it, what's good for the Internet is good for Google.  Not a bad deal for us – as long as we're okay counting on Google to "not be evil" and take good care of all of us Internet users.  Sure, we have a dictator of our online world, but at least right now it's a benevolent dictator.