Dear John: On The Meta-Celebrity's Misguided Attempt to be Clever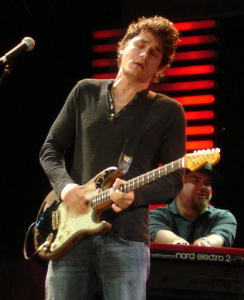 Although John Mayer's career might make for a useful case study of the ongoing relevance of the rock/pop dichotomy in the contemporary post-rock era, the recent controversy concerning his use of highly-charged racial and homosexual slurs in a Playboy.com interview reflects the fact that Mayer is perhaps better known these days for his prolific and highly self-reflexive media presence. Indeed, there is nothing in Mayer's music that might offer us insight into thought process behind the singer's casual use of the 'n' word, the homophobic slur 'fags', and his comparison of his penis to a noted white supremacist in a recent Playboy.com interview. For this, we have to delve into Mayer's extra-musical activities. It is little wonder that, in a culture that fetishizes fame and celebrity, Mayer should be devoting much of his energy to cultivating this attention through the traditional media and interactive social media devices. In this post, I will attempt to contextualize Mayer's indiscretion and their aftermath in terms of his shift from a rock star who tweets to a meta-celebrity who also happens to play a mean guitar.
For the meta- Mayer, 'access' is the key. Mayer's musical success generated interest in him, and the fans' desire for access has been rewarded through Mayer's ability to use Twitter, blogs (he has had as many as four), the conventional media (he has granted many interviews and written for magazines such as Esquire), television (he has done a half-hour comedy program and was in negotiations for a regular variety show). Through all of this, Mayer has devoted a tremendous amount of energy to self-expression and self-analysis. In a sense, Mayer has become his own cultural intermediary. He is a meta-star text sustained in large part by his own mediatory endeavors.
This may sound like a logical development, but I think that the controversy surrounding the Playboy interview illustrates the manner in which Mayer has reached the limits of this strategy. Reading between the lines of this interview, Mayer's apparent candor begins to register as boredom. This, coupled with his apparent comfort with the interview dynamic appears to result in the aforementioned transgressions. In Mayer's apparently impromptu concert apology, he accounted for these indiscretions as his lame attempts at trying to be clever. This rings true: For all of Mayer's apparent intelligence and self-awareness, his remarks suggest that this was a restless individual engaging in a misguided attempt to come across as glib, witty, and a little bit edgy. It is here that Mayer's under-determined status with respect to rock discourse might exert some influence upon the dynamic. It may be that Mayer's "quest to be clever" is in part a function of his desire to model a certain degree of transgressiveness as a means to demonstrate his authenticity and legitimacy to communities that have been reluctant to acclaim him. Frequently portrayed as a 'soft' and superficial pop artist, these episodes ostensibly help to give Mayer an aura of hardness and depth that might distinguish Mayer from the feminized pop realm (or so he seems to think).
In his concert apology, he suggests that he developed the sense that he had 'immunity' in the media; he felt that he could say whatever he wanted to without repercussions. This excess of comfort led him to let his guard down, which resulted in the regrettable remarks. Interestingly, as Tim Slack points out, Mayer's use of the 'n' word has garnered more media attention, but his use of term 'fags' may be more problematic. Mayer deploys this word in an attempt to elucidate the manner in which he feels that he is not part of the African-American community and would not presume to be. In contrast, the word 'fags' is tossed off in the context of a discussion of Mayer's attempt to plant a deep kiss on Perez Hilton. It would seem that, in both cases, Mayer's comfort level with the constituencies in question and the media dynamic, coupled with his desire to establish himself as edgy and transgressive, have prompted him to toss these words around. In this vein, his comparison of his penis to David Duke is perhaps most telling. Describing his approach to African-American women, Mayer states "My dick is sort of like a white supremacist. I've got a Benetton heart and a fuckin' David Duke cock. I'm going to start dating separately from my dick." This clearly does not reflect well on Mayer; these remarks are indefensible on the most essential level. Yet, I think that this statement also exemplifies the strange alchemy produced by the co-mingling of restlessness, comfort, and the desire to transgress and titillate that marks this interview. Mayer gives good copy and he gives a lot of it. His candor results in highly intelligent observations pertaining to his career, star status, and personal development. It also results in these highly regrettable remarks for which he has rightly faced criticism.
The fact that the sense of outrage is quickly dissipating may be less attributable to a collective comfort with these sorts of incidents and more to Mayer's apparently earnest apologies in concert and on Twitter. In the concert clip, he discusses his hyperactive media activities and states that "I should have just given that all up and played the guitar a little bit more." The crowd roars at this point, but one wonders if this can be an accurate reflection of who Mayer is. Is this truly sincere, or is it merely a different sort of authenticity claim?  After all, Mayer's most cogent statement regarding the affair came on his Twitter feed where he offered a lucid and self-aware seven-post apology. There he refers to the fact that he has created a social media 'monster' in his attempts to confront the criticism he has received for his musical output and public life. In a frank and candid moment, Mayer re-states his initial ambition to be an artist and disavows his recent endeavors as a self-described 'shock jock'.
This come across as sincere, yet this message also demonstrates the challenges involved in reconstituting Mayer's social media self. that it will be difficult for Mayer to truly disconnect from the factors that contributed to this situation. In disseminating this message via Twitter and the viral concert video, Mayer has illustrated just how difficult it will be for this meta-celebrity to reduce his connectivity and reconfigure himself as a more conventional – and less interactive – sort of star. The irony is that, should Mayer be able to pull this move off, it might ultimately result in the public getting a better sense as to who he really is (or, who he really thinks he is). For now, it's up to those who care to try to determine whether or not Mayer's recent remarks represent an epic act of self-distortion, an honest expression of his sentiments, or something in between. The only certainty here is that Mayer's indiscretions stand as a useful warning of the perils of excessive comfort, ennui, and exposure to those public figures who might become over-involved in the construction of their own star-texts.