Vancouver's (finally) Ready for its Close-up, Mr. DeMille
What two things do all of the following films have in common? The Accused, Blade, Catwoman, Fantastic Four, Ghost Ship, I, Robot, Jumanji, The Lizzie Maguire Movie, McCabe and Mrs. Miller, The Neverending Story, Percy Jackson and the Olympians, Rumble in the Bronx, The Sisterhood of the Traveling Pants, The Twilight Saga, Underworld: Evolution, Watchmen, X2, and The X-Men: The Last Stand.
A hint: the following television series also have the same two things in common – 21 Jump Street, The 4400, Airwolf, Battlestar Galactica, Caprica, Dead Like Me, Highlander: The Series, Human Target, Kyle XY, Life Unexpected, The L Word, MacGyver, Noah's Arc, The Outer Limits, Psych, Reaper, Smallville, Stargate SG-1, Supernatural, Taken, V, and The X-Files.
Answer: (1) All filmed in Vancouver, Canada; (2) None set in Vancouver, Canada.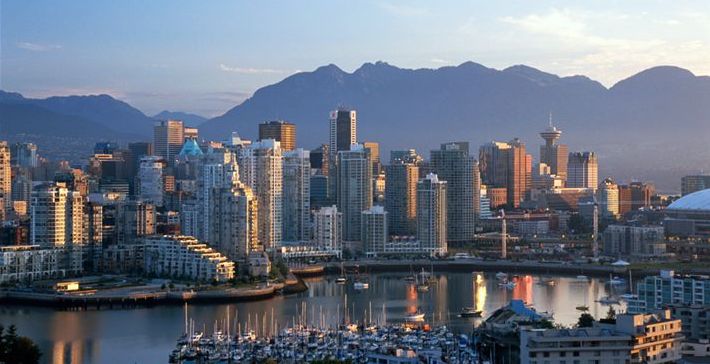 Watching the Olympics, along with all of NBC's shots of Vancouver, has thus been a very odd experience for a Vancouverite. I've seen Vancouver on film and television more than any city other than LA or New York. Probably everyone reading this has too: you just don't know it. See, since it has rarely been allowed to play itself, its most identifiable and identifying landmarks are usually hidden. The Vancouver Art Gallery's steps have been many a courthouse steps, Simon Fraser University has often played a sinister institution's hideaway (or Earth pre-kaboom on BSG), and parts of its skyline have stood in for Metropolis in both Smallville and 21 Jump Street (yes, that was the city's name). But Lions Gate Bridge, the tell-tale sails of Canada Place, the Burrard Street Bridge, Granville Island and English Bay, the beautiful group of Grouse, Seymour, Cypress, and the Lions that frame the city, or an aerial view of the downtown peninsula – these all had to be hid.
I'm certainly not the first to notice this. Indeed, for an excellent discussion of the ghost-like representation without representation of Canada on film and TV, see Serra Tinic's On Location: Canada's Television Industry in a Global Market (half price right now, btw!). But when one is most used to recognizing one's city in a particular parking garage (Rumble in the Bronx), a back alley that looks familiar (The Neverending Story), a house next to a good friend's (It), the very well-watered grass (every show), the swimming pool and school at which one worked in summers (Smallville), a cafe at UBC (The Accused), or in a bilingual Keefer Street sign (Life Unexpected pilot), the city takes on an underground character. When a great deal of these shows and films are worlds for the supernatural and/or superheroes, one's city seems to become all the more ethereal.
So it feels very odd to see a more decisively, obviously, proud Vancouver profiled in endless clips on either side of a commercial break, in glorious HD, with the camera pausing and luxuriating on all those sights that must usually be avoided to keep the myth of Chicago, Philly, Seattle, Portland, Metropolis, or some other American locale alive. I'm even getting weather reports for Vancouver and its suburbs every night on the local news! It's a nice kind of odd, but also a cruel tease when I know Vancouver will need to be put back in a box in a week, once again I'll need to extrapolate its weather from what's happening in Seattle, and once again it will need to be represented by a glimpse of a street I recognized, a style of pre-ordered home, a rainy plot of land, a coffee shop I went to once, or so forth.