The Place Race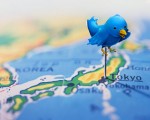 At the end of December 2009, Twitter acquired GeoAPI with their purchase of Mixer Labs, further propelling what MG Siegler at TechCrunch declared "The Great Location Land Rush of 2010". But what exactly does GeoAPI do? And what could it do for Twitter?
GeoAPI's website boasts services like reverse geocoding (or translating latitude and longitude coordinates into words, like names of towns and intersections), searching for places of interest, mapping and annotation capabilities, and a "writable private layer" that allows tech developers to perform various "geo queries" (ie "which burger joints in Madison, WI has Germaine checked into?"; or "where do all the bike messengers in San Fransisco hang out?"). In short, the product can help locative media developers, and consequently other locative media users, track your whereabouts more efficiently. These services could also be harnessed for place-based recommendation systems, or identifying patterns of activity.  Judging by reactions from competitors, once Twitter fully integrates GeoAPI the locative media industry, and the mobile tweet: "Eating lunch downtown, then going to the movies", might never be the same again.
Though Twitter has yet to fully integrate GeoAPI or other geocoding software, it might be useful to take a look at the emerging "place race" now, and what some of the major players have to offer. It's difficult to say exactly how Twitter will further introduce location into it's service. But judging by the recent merger of mobile social network services and locative media, we might begin to imagine how the combination of 140 characters and "place" might change the way we tweet.
As I've mentioned elsewhere, I think "where" does matter in social media and everyday life. I'm also very interested to see how developers implement something like GeoAPI, and the information produced and gathered through its various services. However, "where" can definitely be overdone, or done. . . creepy. The flak Google has recently received concerning Google Buzz and privacy issues, might have overshadowed the flak Google is concurrently receiving regarding Google Latitude and privacy issues. Additionally, Foursquare founders were recently prompted to give a public statement in reaction to concerns and controversy surrounding Please Rob Me,  a parody site which re-presents tweets and Foursquare check-ins as evidence that a user is not at home.
While privacy and surveillance have definitely been main concerns, there's still something completely intriguing about displaying and playing with location, especially the location within which you currently reside. Ads and websites for various locative media services like CitySense, EveryBlock, and Foursquare all emphasize discovery of your neighborhood, your city, and connecting with friends within your hometown. These applications seem to render the city as a layered space full of encounters waiting to be had, hidden treasures, secret hot spots, and "you should have been there" gatherings that even the urban resident needs help finding. In a sense, living like a local merges with seeing like a tourist. Yet, these mobile applications invest the user with an augmented visual capital, and the illusion of an omniscient gaze over the city and its exchanges. By alerting you to the location of your "friends" or other people with similar traits, a suggested route of travel or particular image of the city might be offered — one that extends the way a person is "at home" while moving through urban space.
There's a further tension between exploration and familiarization in some mobile locative media projects as well. The promotional descriptions and gaming aspects of these projects encourage the user to explore the unfamiliar, but simultaneously reward participants for repetition. In Foursquare for example, points are awarded for traveling across distance, but the status of "mayor" for frequenting the same place over and over again. In either case, there seems to be a promise of comfort through connection. The "ambient awareness" of your position, and other peoples' position within the city, might not only render urban space more manageable, but keep your social network in tow in a very tangible way. The potential for physical accessibility of your social network, coupled with the "social proprioception" that Clive Thompson notes Twitter has capitalized on already, will deem them leaders of the place race. However, the problem might be that sensing where your social limbs are (especially the ones you connect with on Twitter), is only useful when it's just a sense.