Quirks, Viewers, Commerce are the Real QVC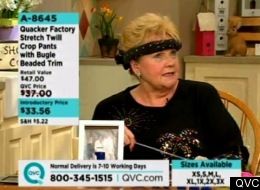 It's the butt of jokes, and relegated to the list of channels most TV viewers skip over without ever stopping (unless it's for a quick eye-roll), but I say there's more to QVC than cheery hosts, celebs hawking products, blooper fodder for The Soup and comedic inspiration for MadTV. In fact, to my mind, the most fascinating parts of QVC come down to its value as a moneymaking commodity, and its relationship to viewers…and, OK, its quirkiness, which outsiders poke fun at and insiders find charming and endearing.
Founded in 1986, QVC (which stands for Quality, Value, Convenience), broadcasts live 24 hours a day, 364 days a year (every day except Christmas). According to the official website, QVC reaches 96% of American cable homes, and more than 166 million homes worldwide.
Home shopping channels have always been big moneymakers, and QVC claims to be the biggest of them all, beating out competitors like HSN, ShopNBC, and that weird knife channel. In 2008, USA Today reported that QVC "revenue rose 5% in 2007 to $7.4 billion" from 2006, with an "average yearly growth from 2001 through 2006 of 12.3%." Having long held prime real estate on the TV dial (USA Today reports 80% below channel 35), millions of viewers pass through the QVC lineup every day, which allows them to sell thousands (approximately 1150 unique items per week) of competitively-priced products quickly and widely. The channel claims its record sales day to be December 2, 2001, with over $80 million in orders taken.
Although present in virtually all American homes, most of their sales (95%) come from repeat customers–approximately 1.8 million viewers. Independent research firm BIGresearch counts the average viewer age at 53, and QVC would prefer for it to be lower. By offering new product lines developed by celebrities (Heidi Klum, Ellen Degeneres, Elisabeth Hasselbeck, Whoopi Goldberg, to name a few), famous designers (Bob Mackie, Kathy VanZeeland, Tacori, Isaac Mizrahi, and Project Runway winner Chloe Dao, for example), and well known beauty industry insiders (Bare Escentuals, Philosophy, Laura Geller, Wen, and Ojon, among others), the channel is clearly attempting to develop a younger audience base. And whether young or old, the audience is predominantly female (to the extent that hosts often refer to the home audience as "ladies" and suggest that viewers buy items "for your husband") and that these women are either stay-at-home or work-from-home moms, housewives, or retirees.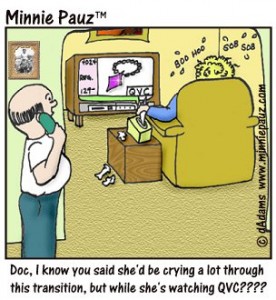 This recognition of the typical QVC viewer (and customer, remember) and also the channel's liveness lead to a very interesting interaction between hosts and audiences. The format of QVC programming is very collegial, warm and interactive. Hosts use direct address and look directly into cameras (and ostensibly to each viewer, personally). They discuss what home viewers may or may not be doing at a given moment ("Take a break from those chores, because you won't want to miss a moment of this hour!"). They mention things that are happening live (the recent snowstorms in Pennsylvania hit the QVC headquarters, so they offered live exterior shots of the campus and suggested viewers experiencing the storm "Stay inside and shop with us!"). They take countless phone calls from viewers, who express satisfaction with the featured product or their excitement over ordering it. This friendly and surprisingly intimate set-up leads audience members to express familiarity with the channel and its hosts, saying, "You keep me company all day!" or "I've watched you for 20 years!" I've even witnessed one caller telling host Leah Williams, "When you talk to me, it's like my best friend is talking to me."
And it is, perhaps, this element of QVC viewership that means the most to me, as a fan. That I have gotten to know the hosts, the rhythms of the channel, the regular guests (designers, representatives), and that what I'm watching is being watched at that moment, live, with others around the country. Yes, there are some bizarre items, some amusing bloopers, some ridiculous gimmicks (David Venable's famous "Yum!" face is at 1:30), and lots of folksy cheer. But it's the channel's embrace of these elements that makes it difficult for insiders to mock. There's certainly more to QVC than meets the eye, and the channel represents a really fascinating segment of television that most scholars simply aren't watching.