Over-Seasoning Buffy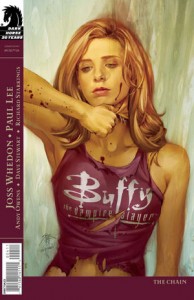 SPOILER ALERT: This season on Buffy, The Vampire Slayer fan favorite Oz returns. Unfortunately, so too does fan least-favorite, Riley. Old foes Warren, Amy, Dracula, and Ethan Rayne all make appearances; Harmony's back as well and she's starring in her own reality TV show. Buffy meets the Slayer from the future, Fray, while in the present, the Slayer army loses all its powers. Meanwhile, Buffy gains the powers of flight. Dawn and Xander hook up, Buffy explores her sexuality, Willow goes dark again, and finally, Angel turns out to be the Big Bad. Phew… a lot has happened, and the "season" ain't even close to over yet. If this were actually a weekly series, I'd say it was either the most amazing season ever or that Buffy has finally jumped the shark (although anyone who watched Buffy season 7 on UPN would probably say that already happened).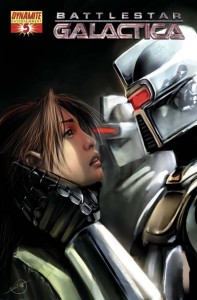 I am, however, referring to the chain of ongoing narrative events taking place on Buffy: Season 8 in comic book form. Debuting in March 2007 and currently 33 issues in, the Season 8 moniker is, on the one hand, a gimmick intended to convey to readers that as overseen by Joss Whedon, the comic book is officially in continuity with the TV series, picking up where season 7 ended. On the other hand, labeling this series as somehow "televisual" is also perfectly in tune with the ongoing cross-fertilization between the comic book and TV worlds, with talent like Whedon, Mark Millar, and Damon Lindelof moving between both media, adaptations and spin-offs on both sides of the pond, from Smallville to Battlestar Galactica, and genre/style comparisons abounding, whether we're talking short-lived praise for Heroes or references to Alan Moore's Top Ten as the Hill Street Blues of superhero procedurals.
Amongst all of this blurring and borrowing, however, the one television concept that simply does not work for comic books is "the season". Seasons imply definite temporal boundaries. There is always an end in sight and part of the pleasure as well as the pain of viewing a season's worth of TV is knowing that it will wrap itself up, well or poorly, within a finite number of episodes. Yes, serialized TV may leave viewers sweating through a season-ending cliffhanger or eight, but viewers still know that at a certain point the season will end, whether things are resolved or not, and that anticipatory foreknowledge is essential to the TV viewing experience.
And herein lies the problem with Buffy: Season 8. As a comic book, it does not follow the same narrative rhythm as prime time network television. There is no end in sight, just an infinite succession of story arcs, whose relation to the overall series is designed to be expansive, opening up future storytelling possibilities. This is perfectly in line with the economics of comic book retail sales that increasingly rely on trade compilations available at chains like Barnes & Noble and Wal-Mart to hook new readers by offering self-contained mini-book-length stories that form part of an on-going franchise.
Let me make one thing perfectly clear: I like reading the Buffy comic. It is well written, capturing the clever dialogue and pathos that made the television series so appealing. The artwork is compelling, with snippets of manga-esque imagery interspersed with some near dead-on recreations of the original actors' likenesses. The opportunities it provides for exploring parts of the Buffy universe impossible to capture on TV without radically blowing up the budget, like Dawn's years-long transformation first into a giant and then into a Centaur, add texture and spectacle that enrich the franchise. But as a television season told in comic book form, it has really sucked precisely because it insists on adopting the organizational schema of "the season," leading to expectations that all of this is somehow driving toward a climactic confrontation between Buffy and Angel rather than exploring multiple facts of the Buffyverse that chart its expanding boundaries.