Hit Girl Could Be Your New Favorite Tween
A foul-mouthed 12-year-old girl assassin? Sounds awesome. She's Hit Girl, a supporting character in an upcoming Lionsgate film, Kick-Ass, a comic book adaptation set to hit theaters April 15. Played by 12-year-old Chloe Moretz, Hit Girl and Big Daddy (Nicolas Cage) are a father-daughter crime-fighting duo who, well, kick some ass. But, after watching the trailer, I find myself conflicted about Hit Girl (and it's not just because of Nicolas Cage). Warning: the red band trailer below is NSFW.
On the one hand…
It's a tween girl kicking ass. Hit Girl adds a welcome complication to a representation category full of kid sister supporting roles, pop star princesses, and mallrat mean girls. Disney executives once referred to Hannah Montana as their version of
a super hero for girls; someone who was normal by day but extraordinary by night. Hit Girl is in so many ways a much cooler female superhero. Why should boys be the only ones for whom "superhero" means physical action and beating up bad guys?  Clearly Hit Girl isn't necessarily meant for young girls, given her language and the film's R rating (among other things),  but Hit Girl is definitely in the running to become my favorite tween. Sill, the comments section on sites like Cinematical or FirstShowing.net that debuted the Hit Girl trailer in December are filled with people claiming they "can't wait to take their daughter to see it." So , Kick-Ass might have the potential for cool father-(older) daughter time in certain families.  In addition, though, I also kind of like that it plays with notions of an idealized childhood and grays the line between 'adult' and 'child' in entertainment. Some critics have already come out to sound the alarm about blurring these lines, raising the familiar concern about  kids and violence in media, but to me, that points to our increased tendency to think that if a media text features a child of any kind, we often automatically think it should be child- or family-friendly fare, and should thus be safely contained in carefully constructed norms of saccharine representations and prosocial narratives. But the irony and shock factor in the image of a foul-mouthed tween girl assassin can be fun for adults, and that's part of the appeal.
On the other hand…
While watching a fictional 12 year-old girl cussing and killing villains can be ironic and fun in destabilizing the innocence of childhood, I'm troubled as to larger questions of what we may or may not gain from destabilizing it and our privilege to do so. Hit Girl feels awesome because she's a young, white middle-class girl in America, a group often pressured to be pure, innocent, and powerless. But in other parts of the world, kids with guns are a truly distressed class of child soldiers, where the loss of childhood innocence is a serious tragedy.
Additionally, I'm troubled by the fact that there are certainly some serious dangers of exploitation in Hit Girl. The slow motion action shots focus our gaze on her body, which is also the real-life body of a 12-year-old actress, Chloe Moretz. There are similar struggles in other female action heroes, like Angelina Jolie as Lara Croft, or Halle Berry as Catwoman, and there are many young (looking) girls in comics and anime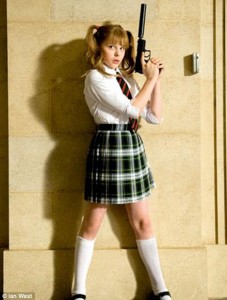 who don't wear much and kill things.  But as a live action movie with a real 12-year-old actress, I find it much more problematic, and I'm wrestling with identifying and articulating reasons why, beyond just the seemingly obvious "she's young, female and vulnerable."  Is it because she's young and supposedly without the sexuality that Angelina or Halle might command and thus enjoy in those characters? It's certainly unsettling to think about the target audience of 18 – 34-year-old men gazing at Moretz and the uneven power dynamic at play there. In the trailer, we see her in a colorful wig and purple super hero suit, but she also appears in the film in the classic plaid skirt schoolgirl outfit, which by now is practically shorthand for fetishized young girl. I don't want to say that she is already necessarily a victim, though, because denying the burgeoning sexuality of t(w)een girls is itself a problem that creates troublesome double standards and neurotic expectations for young women. That said, the fetishization of the young female body for display in Kick-Ass is undeniably exploitative. (I mean, really. The school-girl outfit? Ugh.)
So, I'm troubled by the potential exploitation in Hit Girl. At the same time, there are ways that she works against our cultural notions of kids as innocent and girls as passive victims. And that's definitely fun. In the end, I don't think either take can necessarily win out over another; after all, there's no such thing as a perfect representation. But I'm fascinated by Hit Girl and what we can learn about childhood and gender in working through our reactions to this character.