What Are You Missing? March 1-13
Ten (or more) media industry stories you might have missed recently: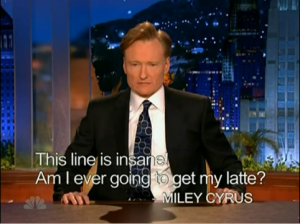 1. The upside and downside of Twitter and celebrity: Conan O'Brien turned to Twitter to entertain us (thus becoming what he once mocked). He then used Twitter to turn one woman's life upside down, and she charmed us all by channeling her sudden fame into good causes. But Twitter doesn't always have such delightful results, as evidenced by the fact that Academy Awards ceremony co-producer Adam Shankman chose actors like Zac Efron and Miley Cyrus to present at the Oscars because Twitter followers told him to. Where's Fail Whale when you need it?
2. The viral video of the fortnight was OK Go's Rube Goldbergian "This Too Shall Pass." It's sponsored by State Farm, which dismays some (I assume Sarah Polley wouldn't approve) who also point out that Honda and others did this first. Regardless, it looks cool, and Wired found out how they pulled it off. By the way, there was a previous video for "This Too Shall Pass" involving the Notre Dame marching band, but you likely missed it due to ridiculous embedding restrictions. There's a very important lesson in there, internet. In fact, OK Go has since left its record label EMI over the issue. Viral video runners-up: SNL presidents, Avatar/Pocahontas mashup, Mean Disney Girls, the Russian singer, Battlestar Galactica–Sabotage video.
3. Jesse Thomas composed a fascinating "State of the Internet" video, featuring such facts as that 247 billion emails are sent each day, but 81% of them are spam. And Zaheer Ahmed Khan has a fun list of Internet firsts, like the first item sold on eBay: broken laser pointer, purchased by a collector (?) for $14.83. Who could have predicted then what sites Twitter, Facebook, Linked In would be worth now? Speaking of internet firsts and future loads of money, Business Insider's Nicholas Carlson has the contentious story of the founding of Facebook.
4. Scholar Thomas Doherty says film criticism is dead, and (not dead) film critic Richard Schickel seems inclined to agree, having said during a recent panel discussion, "I don't know honestly the function of reviewing anything." Chuck Tryon disagrees with Doherty, as does Jim Emerson, and Keith Uhlich pulls no punches in depicting what he thinks of Schickel. Meanwhile, (not dead) film critic Armond White once allegedly kinda sorta said he wished filmmaker Noah Baumbach was never born, but I'm not sure whether the resulting kerfuffle qualifies as film criticism dead or film criticism alive.
5. Doherty can amend his article with the news that Variety has kicked to the curb its last remaining salaried (but not dead) film critic, Todd McCarthy, as well as its last theater critic. Former Variety columnist Anne Thompson says the trade has cut its lifeblood, (not dead) film critic Roger Ebert gives the move an impassioned thumbs down, (not dead) film critic David Edelstein remembers the way Variety used to be, and McCarthy himself offers some thoughts. Best headline, from the LA Times: Variety Lays an Egg. Variety also has a lawsuit to deal with in regard to a negative film review. Variety's defense? Film criticism is dead.
6. Bloomberg's BusinessWeek detailed the decline of Miramax, and in its wake, Levi Shapiro points to The Messenger as a new example for indie cinema to follow, while Paramount is trying a new approach with producing "micro-budget" films. With the studio infrastructure for indie cinema broken down otherwise, film festivals might be ever more important in taking up the slack, if they can do it right and especially properly utilize both online distribution and marketing. In that regard, Lion's Gate is trying to take advantage of social media marketing for its April release of Kick Ass, and Break.com is succeeding with its online distribution of low-budget videos, though their indie fare is decidedly lowbrow, rather Hurt Locker territory.
7. Iranian filmmaker Jafar Panah (The Mirror, The Circle, Offside) was arrested in a government crackdown on dissidents. Countryman and international art cinema icon Abbas Kiarostami has decried this development, the LA (Not Dead) Film Critics Association has expressed its dismay, and you can too via an online petition. For more on the broader context, The Believer Magazine has a revealing report on filmgoing and filmmaking in Iran.
8. Speaking of The Hurt Locker, hooray for Kathryn Bigelow's Best Director Oscar, which New York Times (not dead) film critic Manohla Dargis was thrilled about. However, Rachel Abramowitz offers the cold slap of reality in her LA Times piece about the ongoing challenges for women in Hollywood. The other woman everyone fell for at the Oscars was Gabourey Sidibe, and Feminista Files blogger Erika Kennedy detailed the insulting backstory of her Oscar dress saga and defended Sidibe as a role model. Howard Stern should give that a read.
9.  In DVD news, an Indiana prosecutor wants only G movies in Redbox kiosks, Blockbuster is going back to imposing late fees, and the MPAA had small win in their big fight against DVD copying software, but this chart of DVD sales struggles will make them unhappy. Disney has  shortened the Alice in Wonderland DVD release window, but speculation that Hurt Locker's post-Best Picture difficulties with booking theaters are due to the film being out on DVD might give other studios pause (literally!).
10. My favorite News for TV Majors story links: There Will Be Retrans, CNN Fears Facebook, Flushing Measurements, TiVo News, Indecency Backlog, Cable Channel Fees, Exec Interviews, Viacom & Hulu Break Up, Old Spice Ad, and NCIS Fandom.