Lost Wednesdays: The Cork Island
Tuesday was one of the oddest days in my Lost fandom. I am in Los Angeles, staying a few days following last week's Society for Cinema & Media Studies conference to do some research in the form of interviewing television producers. So today, I drove up to Burbank, entered Building 23, and sat down with Lost writers Damon Lindelof, Carlton Cuse, and Gregg Nations. It was a great conversation (no spoilers, of course!) that I hope to post to my blog soon enough. And then I watched the show's east coast feed with TV critic Todd VanDerWerff and his Slingbox, before rewatching the episode on my hotel's HDTV in west coast time and writing this up to post before I head back early Wednesday morning. So Lost has taken up the majority of the day, limited only by not wearing my What Would John Locke Do t-shirt.
Thankfully "Ab Aterno" is an episode that deserves such attention. It's quite rare for Lost to focus an entire episode on a single character's story without flashing back and forth to the contemporary island, especially featuring only one series regular (in which Nestor Carbonell certainly delivers here), but a lot has been leading up to the tale of Richard and the Black Rock. The episode has two main tasks: provide a rationale for Richard's crisis of faith through an emotional backstory, and unload a bunch of island history to deepen the mythology. It succeeds at both, although I think one was stronger than the other.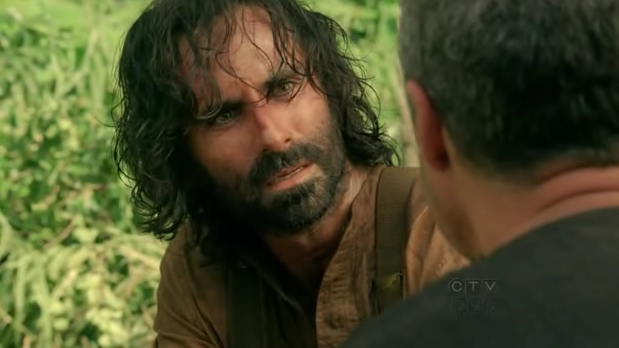 Richard's story is not hugely surprising, as we'd been long suspected that he'd been a Black Rock slave granted eternal life in service of Jacob. The background of his wife's death and his guilt was emotionally resonant, and it was nice to see a character whose past trauma was not parentally motivated. The first part of the flashback seemed to move a bit slow, but it did establish Richard's torment before Blackie's rescue to help motivate his willingness to serve. The emotional core really paid off in the scene with Hurley and Isabel, as Lost hit its romantic melodramatic notes quite well, approaching the feel of another single-character story, "The Constant."
The mythological revelations about Jacob and Blackie were not quite revelatory enough for me, even though I found their chemistry compelling. We're still not exactly sure who is telling the truth, and while Jacob seems to be representing the forces of good, he comes across like a tool. Blackie is clearing playing Richard for his own self interest, but I'm still not convinced that popping the island's cork and releasing the darkness will be as horrible as Jacob warns – and I still contend that's what the flash-sideways represent. The game and the rules that they are playing by are still unclear, and I'm not certain if there are clear policies for what dead people can appear on the island – why was Isabel there in the 1860s? Was she a manifestation of Smokey as a ploy to earn Richard's trust? But her body wasn't on the island, which seems to previously have been a limit.
Based on the gift of the white rock, it appears that the cave probably belongs to Smokey instead of Jacob, suggesting that Locke has not been as truthful to his followers as it had seemed. What with the creepy malevolence of Locke staring from the hillside and Blackie breaking the bottle of wine, the black=bad assumption seems to be settling in, although I'm optimistic that it's not that simple. And despite sitting a room a few hours ago with people who have all the answers, I still remain unclear as to which side I'm on.
Random favorite fanboy moment: seeing that the Black Rock's wave-induced journey into the jungle destroyed the statue was a particularly elegant way to answer a bunch of questions with one swift gesture.