Putting the American Back in Idol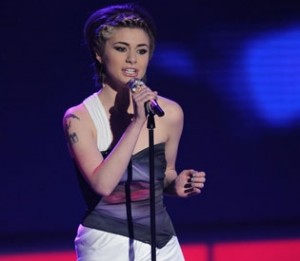 She's awkward, odd, and unlikely. Undeniably gifted, confident, yet sweetly modest. The heroine who pulls herself up from a humble beginning by some rather edgy bootstraps. The role model who stays true to herself in spite of each week's transformation from being a glassblower from Cape Cod to being a performer who can hit notes deemed unbelievable by the judges. In other words, American Idol contestant Siobhan Magnus is a veritable original who typifies the American spirit–and watching her succeed is really what the show is all about.
Although there are other contestants this season who share her can-do attitude and legitimate talent, the sum of their parts still doesn't quite equal Magnus' and here's why: She possesses a much higher degree of the kind of individuality commonly associated with the American success story. A "funny little thing," according to Simon. An awkward nerd who plods through sentences in interviews and displays a somewhat psychotic fashion sense. At first glance, that is. Get to know her a bit more each week and you see that she's actually an introspective interviewee, a serious thinker who cares about her world and those around her, who becomes suddenly stylish the more you understand that her apparent lack of style is simply a manifestation of her individuality. Moreover, she has a stunning voice and invigorating stage presence, having earned a comparison to last year's Adam Lambert, produced a scream worthy of Aretha Franklin in her rendition of "Think," and provided a dark interpretation of the already dark "Paint It Black." (Her other performances—"Wicked Game," "House of the Rising Sun," and "Superstition"—have also been impressive, though the same can't be said of this week's clumsy attempt at Chaka Khan's "Through the Fire.")
Magnus' individuality can sometimes be a little puzzling because the distinction between her private and public personae is so sharp and uncommon. Without undermining her authenticity, a useful comparison can be made via John Hughes' Pretty In Pink. She is like a millennial incarnation of Andie Walsh, who is arguably the most heroic heroine conceived by a man renowned for his ability to capture the spirit of American youth, and portrayed by 80s icon and girl-next-door Molly Ringwald. Walsh and Magnus have clear similarities in terms of style and sensibility–and their refusal to compromise themselves. Upon being told, "If you put out signals that you don't wanna belong, people are gonna make sure you don't," Walsh responds to her principal with respectful resistance and says, "That's a beautiful theory." In Magnus' case, upon being told by Usher, this week's mentor, that her voice was strong but her look needed some fine tuning, she smiled politely but clearly put the premium on her own judgment and sense of self. "I have to do something," she said, "I can't just wear a dress and heels."
Sadly, this week her voice and her look were both a little off—but far better for that to be the case than to do it any way other than her own. Although she was praised for her "courage and conviction" and for selecting a song others wouldn't have attempted, the criticism was harsh and visibly hard for her to take, but it didn't keep her down. In response to Ryan Seacrest's question about how it made her feel, she calmly and confidently explained, "I could give you a million excuses [for the poor performance] but I'm not that kind of person.  I'm a human being and, you know, stuff happens–but I just do want to say…I'm not defeated and I don't take it that way."
Magnus is not a typical contestant and may eventually be defeated for that very reason, which would be unfortunate because it is her originality that makes her worthy of idolatry. But one thing all Americans can agree on is that it's not always the most worthy candidate who earns the votes—and that there is no victory more satisfying and more in keeping with our national ethos than that of the uncompromising underdog. In that sense, what could be more American than wishing her to win?