Smart Girls; Or, Why Do People on TV So Rarely Act Like We Would?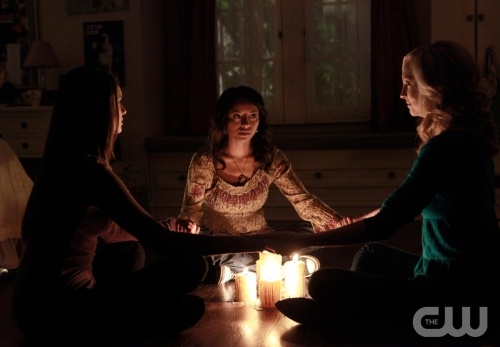 I like vampires as much as any other slightly romantically inclined middle aged female. I'm definitely more a Whedon than Meyers girl, but I certainly understand the appeal the latter has to my kid's female classmates and their moms. So I tried The Vampire Diaries for its sexy vampires but I stayed for its smart plotting and believable characters. As Annie Petersen describes in her "Vampire Diaries: The Best Genre Television You're not Watching", its appeal is not in spite but because of its generic qualities. Moreover, it is a genre show that embraces narrative complexity and revels in its quick pace, introducing and killing off characters ceaselessly, yet giving most of them enough of an identity to make us care.
There are two characteristics Annie doesn't address that stand out to me: the depiction of women and the way problems aren't artificially caused or perpetuated. All too many shows these days may feature strong female characters, but they often do little more than talk about or for the men. The Vampire Diaries has a set of surprisingly complex and even more astoundingly likeable characters who consistently are depicted as real friends. They fight and disagree; they forgive and make up. As thelana describes in her excellent post on Female Friendly Shows: This is the show that had an entire episode just dedicated to the three main female characters sitting down together, catching each other up, apologizing to each other and then having a seance together. Most importantly, they actually talk to one another about their lives and worries and do not constantly keep things hidden from one another.
Which brings me to my other point, namely, the way misunderstandings or plain ignorance often get used as plot points. While foreshadowing may be a useful device and narrative irony certainly has its place, I often grow frustrated with shows when the entire plot depends on a misunderstanding or a refusal to be open and honest, when there is no storyline except for people acting less aware and smart than we know them to be and than we expect adults (or even near adults) to behave. Admittedly, there are certainly instances of that here: if you know there are evil bloodsucking vampires around town, it'd behoove you to warn your family not to invite strangers into the house.
And yet, the show doesn't rely on using character ignorance to create drama, allowing me to watch without rolling my eyes or yelling at the screen. When Elena's young, pretty aunt gets hit on by what we know is an evil hungry vamp, she not only doesn't fall for it but also has been protected by her niece with the necessary herb. When Elena does not get invited into a home she accurately deducts that this person might indeed know about vampires. When the viewer starts to suspect that Elena's birth mother might be random history teacher and vampire hunter's dead wife, the characters figure it out as well and, as a bonus, actually share that information.
Also, unlike more episodic genre shows that are built around the secrecy that often comes with otherness, such as Buffy or Smallville, The Vampire Diaries refuses to return to the status quo of general ignorance. Instead, when Elena's brother is confronted with weird behavior and strange faces and drained bodies, he actually Googles vampires and confronts his quasi girl friend. Or rather, and I'll end with this more unsettling example of intrusive product placement, he Bings it. So where the show itself manages to make me belief in these characters because they act and think like real people, it is that commercial intrusion which, as Rebecca Tushnet argues, destroy[s] suspension of disbelief more than the presence of vampire diaries.