Auteurism vs. Superhero Synergy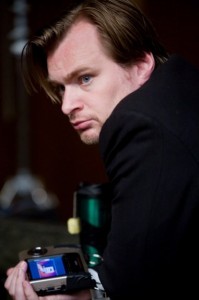 Last month the L.A. Times announced that Christopher Nolan would produce yet another reboot of the Superman series, as well as direct a third Batman film.  By hitching their wagon to Nolan, Warner Bros. and DC Entertainment extend their association with one of the most acclaimed and successful filmmakers in mainstream cinema.  But there is a trade-off, as Nolan's involvement with both Superman and Batman places important restrictions on those franchises.
First, Nolan declares that the third Batman film will "finish the story."  A strong sense of narrative closure would preclude the possibility of additional sequels – a dangerous thought for a series that has already grossed $1.37 billion in theaters alone.  Of course, Warners could simply reboot (Batman Begins Again?) after Nolan leaves; Marvel is currently taking this route with their Spider-Man, Fantastic Four, and Daredevil franchises, after having already rebooted the Hulk and the Punisher.  But will this practice of rebooting whenever a film underperforms (or, in the case of Spider-Man, when cast and crew salaries become prohibitively high) begin to wear on audiences?
Another issue unique to Nolan is his approach to superheroes – specifically, his efforts to situate them within a "realistic" dramatic environment.  To this end, Batman is the only superhero in his narrative world, and Nolan says he will take the same approach with Superman.  This inhibits Warners from pursuing projects that involve both characters (i.e. "World's Finest" or "Justice League of America").  Although DC (as All-American Publications) may have created the concept of the shared superhero universe in 1940 with All-Star Comics, seventy years later they have chosen the auteur over the potential for franchise synergy.  Marvel Studios, in contrast, is aggressively situating each of their upcoming superhero films in "the Marvel Cinematic Universe."  This strategy will culminate in 2012's The Avengers, which will feature Iron Man, Thor, the Hulk, Nick Fury, and Captain America.  Likewise, while Nolan's Superman film and Martin Campbell's Green Lantern will likely be quite different stylistically, Marvel seems to be utilizing a generic cinematic "house style", based on Favreau's Iron Man (2008), to provide continuity.
Of course, Warner Bros. and DC might get the last laugh.  It is still unclear that the synergy among Marvel's superhero films actually leads to additional revenue.  Did more people see The Incredible Hulk (2008) because it contained a cameo from Robert Downey, Jr.?  Will the "all-star" roster of The Avengers still have value if Thor (2011) is a box office disappointment?  Do people really care if Edward Norton plays Bruce Banner in The Avengers?  And most importantly, will an Avengers film really make more money than plain old Iron Man 3 would have?  In order to keep Avengers reasonably affordable Marvel has kept cast salaries low, either by casting unknowns or low-wattage stars, or according to Variety (4/4/10), apparently by simply finding stars who are willing to take a pay cut for the career benefit of starring in a summer tentpole (or, more likely, for back-end money).  But we will have to wait another two years to see whether or not "more is more."