Record Store Day, or Vinyl Record Day?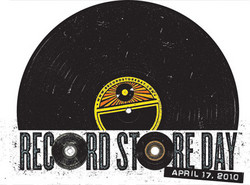 Amidst all the record industry's doom and gloom over digital piracy and declining CD sales, there has been one largely overlooked area of the market that's actually been experiencing tremendous growth in recent years, and that's vinyl. That's right: phonograph records, that analog sound recording format that has been declared dead more times than film criticism. The reality is that vinyl – the primary commercial music medium for most of the 20th century – never went away, even though it left the mainstream in the early 1990s, replaced by digital media (first CDs, then MP3s). It has remained a staple of the rock music underground, as well as the preferred format of most serious record collectors and audiophiles. The Internet-fueled "digital music era," however, has sparked a new wave of interest in this old medium, some even predicting that vinyl will eventually replace CDs as the physical music media of choice.
According to Nielsen SoundScan, sales of vinyl albums in the U.S. increased by 33% in 2009, to approximately 2.5 million copies. The major labels have started pressing vinyl again for the first time in roughly a decade. It is estimated that half of all new albums are being released with a vinyl counterpart. Still, digital music dominates sales and vinyl remains a niche item: digital track and album purchases, which were also up in 2009, account for nearly 80% of total music sales, while vinyl represents less than 1%. In other words, no one is suggesting that vinyl is about to replace digital music, only the CD. But the record industry – by which I mean not only the record labels but also retailers, distributors, manufacturing plants, et al. – very much needs physical objects to sell, hence its renewed commitment to vinyl.
Enter Record Store Day, which is taking place today, April 17th, at indie record shops across the U.S., Canada, the U.K., and other countries. An annual "holiday," now in its third year, RSD claims as its mission the "celebration of the unique culture surrounding over 1,400 independently owned record stores worldwide." By all means this is an industry event, organized by the Music Monitor Network, a coalition of music retailers, labels, and distributors, and the Alliance of Independent Media Stores and the Coalition of Independent Music Stores. It is also sponsored by the music trade association NARM, consumer electronics manufacturer Crosley Radio, and the nation's largest music distributors (RED, Fontana, EMI, WEA, Universal – all of which are attached to the four major labels: Sony, Universal, Warner, EMI). There are plenty of independent record labels throwing their weight behind RSD, too, ranging from big names like Sub Pop and Matador to smaller ones such as Jagjaguwar and No Idea. But it's particularly interesting (to me, anyway) that the majors are so closely involved in an event that is designed to celebrate independent retailers and which, based on the artists participating in RSD live events and those issuing special RSD releases, centers almost exclusively around what would be broadly termed "indie rock" music and culture.
Indeed, the bait used to actually lure customers into shops on Record Store Day, apart from discounts in some venues, are in-store performances and exclusive releases. For instance, this year Smashing Pumpkins, Yo La Tengo, and No Age are among those artists performing in stores, while musicians including The Rolling Stones, Beastie Boys, Bruce Springsteen, Devo, Sonic Youth, and Pavement are offering special limited edition releases. The way these artists and record companies have rallied around RSD, though, seems to indicate that this phenomenon is less about record stores than it is about saving records, period. And not just any records, either, but vinyl records.
The "unique culture" that Record Store Day claims to be commemorating is, quite specifically, vinyl culture. The aforementioned exclusive Record Store Day releases – some 170 in total – are, with a few exceptions, all vinyl. Indeed, a trip this morning to some local participating record shops in Madison, WI, confirmed that a majority of the customers, at least in the opening hours, were dedicated record collectors quickly dropping in and out to pick up the limited edition vinyl pressings. Surely, the record stores are profiting from the increased traffic (at last year's RSD, indie retail sales grew 21% from the prior year), but most of those sales would appear to be coming from already dedicated consumers  (read: record collectors) who are just looking to get their hands on exclusive releases (read: catnip for record collectors).
That is, stores are milking their base – and there's nothing wrong with that. Record stores need to sell records – physical products – to stay in business, and record collectors, particularly those in the rock/indie/punk/whatever-you-want-to-call-it underground, buy lots of records and they mostly buy vinyl. This is hardly news to the mom-and-pop record shops, as it has been their primary market all along, nor is it news to the indie labels or artists. But the major record companies seem to finally be realizing the value of this niche audience, too. Indeed, the major labels (and their distributor subsidiaries, which handle loads of smaller indie labels) need more than anyone else for physical records to survive. And increasingly that means supporting vinyl culture: the vinyl format itself, as well as the independent shops that sell it and the small but committed audience that buys it. Record Store Day might just as well be called Vinyl Record Day.