Media Studies, Have We Lost Our Feminism?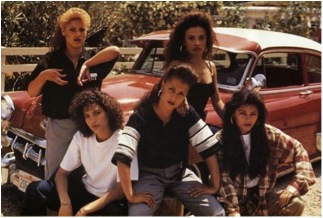 At Console-ing Passions this April, Tara McPherson exhorted the plenary audience of mostly female scholars to not shy away from studying digital media technology and questioned whether feminist scholarship is falling to the wayside, particularly in textual analysis-based work. While I don't feel we can rank media studies subdisciplines in relation to potential for feminist scholarship, her talk provoked me productively.  I came away with ongoing questions regarding why feminism seems lost at times in contemporary media scholarship and the place of feminism in my own work and life.
The second question is easier to tackle than the first, so I'll start there.  In the tradition of feminist standpoint theory, I/we need to remember as scholars and teachers that despite how we may professionalize and depersonalize our writing, that our questions and approaches are shaped by who we are and where we've been.   So, to illuminate where I write from, I grew up the daughter of a Mexican mother and German and English American father, in mostly white neighborhoods in the U.S.  I thus write as a Latina and Chicana, with these identities claimed mostly as an adult, and as mixed race. My mother didn't get the opportunity to go to high school, and my parents, while they helped me get a college education, never expected me to pursue graduate degrees.  Especially important to my work today, I later became a social worker, and worked for several years with low-income families and Latina and African American teen parents in San Francisco before returning to graduate school to pursue a Ph.D in media studies. Do my mixed ethnic background, class positioning, past romantic partnerships with women, work experience, or even my feminist values make my scholarship more feminist, however?
There's a story I tell sometimes when asked what inspired me to become a media studies scholar. One of my days working with teen parents has stuck with me; it was a screening of Mi Vida Loca, Allison Anders' film about Latina gang members.  The girls were riveted, and later told me that it was the first time they'd seen themselves in a film.  (Which is not to say that I'm proposing Latinas should always be portrayed as cholas or as working class, but that we all want to see ourselves represented, respectfully, in the media). In my visits to my clients' homes I also saw how many of them were very isolated, with only their babies and a television to keep them company.  As I considered what mid-1990s television offered them in terms of role models or inspiration to even finish high school, I realized just how much media representation – or lack thereof – matters.  This is part of what is feminist in my work; I'm motivated by the fact that these young women are not there, on the TV or movie screen, or behind the scenes telling their stories. But Console-ing Passions made me think about how I might better foreground feminism in my research, teaching, and mentoring. We may assume it's "built in" to our work, as a colleague and I joked at the conference, but our readers and students don't necessarily know that.
Excellent anthologies such as Yvonne Tasker and Diane Negra's Interrogating Post-feminism and the work of a number of smart scholars, many who contribute to Antenna, aside, the word feminism is coming to feel out of place in contemporary media scholarship.  As we've become more integrated into the academy, it seems we're in fact expected to build in feminist, anti-racist, and related objectives but not focus on them too directly. We're also not always studying histories of oppression that contribute to the dearth of female and non-white voices in media production or the impact of media texts on audiences, which at worst, I think, can result in analyses that are far removed from how media matters.  We might be viewed as less than rigorous scholars if we call attention to or take an activist stance when we encounter denigrating representations, cite Gloria Anzaldúa or bell hooks before Foucault or Stuart Hall, or acknowledge that we personally are motivated by feminism and related ideals. And I write this as someone with the new freedom of tenure, remembering that it often is less safe to be open on these topics as a graduate student or untenured faculty member.
I don't think all media studies scholarship should be feminist or social change-oriented, but I do think we play a role in creating space for this work, and that what we say and what we leave out has an impact.  I'd love to hear others' thoughts on this as well. What's your opinion on the integration of feminism in contemporary media scholarship?  How can scholars successfully accomplish this? And do these issues resonate in the same way for younger scholars?