Glee: The Good, The Bad and The Funky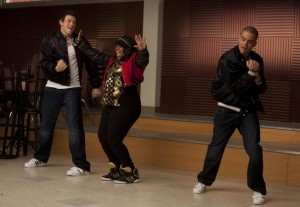 "Funk" opens with Jesse St. James telling the slack jawed members of New Directions that he has transferred back to his old school and rejoined Vocal Adrenaline (ouch!). Before launching into an intimidating rendition of "Another One Bites the Dust," he tells his former allies, "The blogs and chat rooms say that we're finished and that you guys are ripe to topple us. We just wanted to show you a little something we came up with a few days ago to see if you agree with that assessment." While it may be hard to believe that high school show choirs are fervently discussed in chat rooms, Glee itself is often the subject of debate on blogs, chatrooms, and in the pages of magazines. In fact, last week's episode, "Theatricality," generated a lively discussion on this blog regarding the show's ability or inability to accurately showcase the lives of ethnic, racial, social, and sexual minorities. At the risk of grossly simplifying these intelligent arguments, I'd like to select two representative comments from last week's discussion. First, The Good from Kelly Kessler: "I think there are ideologically problematic issues with the show, but there are ideologically problematic issues across shows and in life. I prefer not to force the show into something that makes me feel warm and fuzzy (and bored) at all times." And now The Bad from Jonathan Gray: "I feel as though the show is becoming like a person who tells you, no insists, that they're not racist or sexist, and becomes their workplace's Diversity Captain…to prove the fact, yet who regularly makes lightweight racist and sexist comments." Those two comments pretty much sum up the debates that rage in own my head whenever I watch an episode of Glee and this week's episode was no exception.
Let's begin with The Good: I loved Finn and Puck's rendition of Beck's "Loser," sung in the aisles of Sheets n' Things because it cameclose to my definition of a true integrated musical number, that is, a song and dance number that arises seamlessly out of the diegesis, expressing character emotions and furthering the plot. Indeed, the tone of Beck's slacker anthem perfectly expressed the ennui, the funk, if you will, of a dead end job. And the workers' robotic movements—sweeping, stacking, and folding in time to the beat—were a classic example of non-choreography. "Loser" moved effortlessly from reality to fantasy and back again—something that most numbers on Glee fail to achieve. And while I don't think Quinn had the vocal chops to tackle James Brown's "It's a Man's Man's Man's World" (very few singers do), I was nevertheless moved by her passion. If anything can illustrate how we are all still living in a "man's world," it is a line of sorrowful, pregnant, teenage girl's. Funky? No. Poignant? Yes.
The Bad: "Funk" was peppered with moments that were intended to be "edgy" but just came off as offensive. When, for example, Terry catches Puck playing air guitar in the middle of Sheets n' Things, she snipes, "I thought Jews were supposed to be smart." This joke might have worked if Puck's Jewish identity had been highlighted earlier in the episode or if he had actually been doing something stupid at the time. But without these elements in place, the comment is out of place, offensive, and worst of all, not very funny.
The Funky: Early in the episode Mercedes scoffs at the idea of white people being "funky" and Finn seemed determined to prove her right; I noticed that the camera kept cutting away from his dance moves during "Good Vibrations," as if it were embarrassed to watch for too long. However, Will's sultry performance of "Tell Me Something Good" (and the close-ups on his tight rear end) was reminiscent of George Michael (and I mean that in a good way). Also bringing the funk was Brittany, whose dancing is so much better than her castmates' that it can become distracting in group numbers. During "We Got the Funk" I found that I kept searching for her in the crowd, waiting for her next solo. But we should expect this from the dancer who toured with Beyoncé.
Ultimately, "Funk" exemplified everything I've come to expect from Glee: a confusing mix of rousing musical performances and out of place racist/sexist/heterosexist jokes — a perfect mix of the good, the bad and, thanks to Will and Brittany, the funky.