Live-Tweeting and the Academic Conference
NOTE: Many of these ideas come from those who live-tweeted this year's SCMS Conference and Console-ing Passions; for more, see Antenna, Celebrity Gossip, Academic Style, Judgmental Observer, and Zigzigger.
Live-tweeting academic conferences is a relatively new phenomenon; as a result, conference participants and coordinators are still working out the kinks, so to speak. For example, at this year's Society for Cinema and Media Studies conference (SCMS), the absence of WiFi frustrated presenters and attendees who intended to live-tweet:
@loganpoppy #SCMS10 feels backwards w/o sufficient WIFI access. Back channel communication is effectively retarded. Needs to be addressed.
@loganpoppy @kfitz @j_l_r the value of backchannel comm is invaluable to me. We need to make this clearer to the organizing committee
On the other hand, participants at this year's Console-ing Passions conference were able to tweet furiously because of the availability of wireless Internet access. In fact, a couple of followers from afar noted that the CP tweets had far exceeded those from SCMS in only an hour's time.
@jmittell In about an hour, #CPUO has surpassed #SCMS in terms of dynamic participation on Twitter. Thanks for sharing with those of us not in Eugene!
@fymaxwell It's 9:23 am, & #CPUO attendees have already surpassed the # of tweets sent over 5 days of #SCMS. Free WiFi=vibrant back channel. Who knew!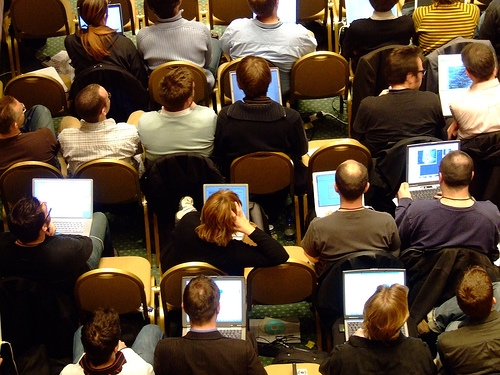 This is not to say that live-tweeting from Console-ing Passions was without problems. On the contrary, some tweets were inadvertently taken out of context while others were overly simplified. This means that some Twitter followers, particularly those who weren't at CP, justifiably misread and misunderstood the presentations. (For more see Jason Mittell's "Don't Tell Me What I Can't Do," the comments section in particular.) Other live-tweeting concerns are as follows: several panels go un-tweeted, some live-tweeters take a negative approach toward almost every presentation, and other participants think tweeting during panels is just plain rude.
Still, many would argue that the benefits of live-tweeting academic conferences far outweigh the problems. For example, live-tweeting allows those who cannot attend to participate virtually; it encourages questions/conversations before, during, and after presentations; it helps graduate students to become more visible; and it produces a digital archive (archives: SCMS/SCMS10 and CP).
I am currently putting together some information for those who'd like to live-tweet the 2011 Popular Culture Association/American Culture Association conference (PCA/ACA). Based on Twitter and blog conversations with those who have effectively (and not as effectively) live-tweeted as well as my own live-tweeting experience at this year's SW/TX PCA/ACA, I've created some "Twittiquette" for PCA/ACA coordinators and participants (here's a sample flyer). Of course, this could serve as a template for any academic conference.
For conference coordinators:
Set up a hashtag stream on the conference website.
Include the hashtag and WiFi code on badges and/or in the conference program.
Inform speakers that they may be live-tweeted.
Encourage speakers who do not wish to be tweeted to notify the audience accordingly.
And for those who wish to live-tweet during the conference:
Strive for context. Sound-bites don't help those following the conference from afar.
For the purpose of archiving, please include the conference hashtag in your tweets.
Respect those who do not wish to have their presentation tweeted.
Cite the source of your tweets; give the speaker credit.
Avoid negative comments; be critical, not unconstructive.
Retweet relevant or useful posts.
But also avoid flooding your followers with tweets; hit the high points.
Make use of the Twitter feed for post-presentation Q&As.
To the extent possible, respond to those who live-tweet your presentation.
To separate the conference feed from your personal Twitter feed, set up a hashtag search in your Twitter client (e.g., Tweetdeck, Seesmic, Twitterific).
Tweet a summary/teaser of your paper before your panel; publicize your area!
Think about posting your presentation online. This way, others may further engage with your work and potential live-tweeting (mis)understandings might be minimized.
Sit near the back of the room so others aren't distracted by your typing/texting.
Set up a time and place to meet your Twitter colleagues face to face.
Finally, if you've never tweeted, try it! Its rewards are greater than you might think.
Based on your experience or hearsay, what would you add or remove from the list?