Damages: A Tale of Two Women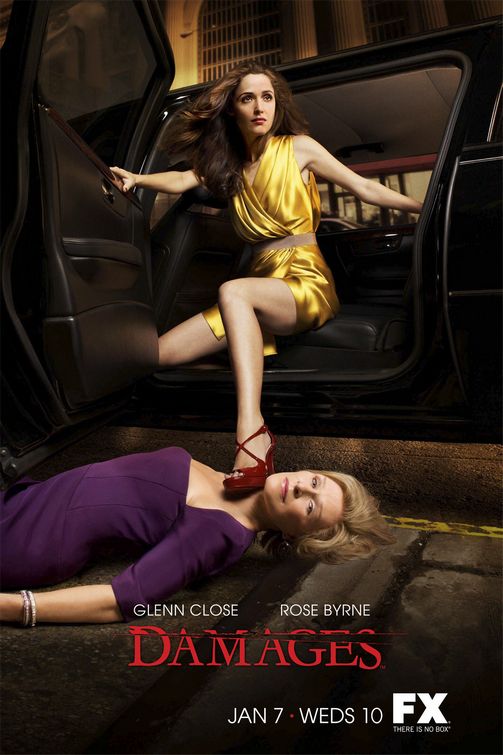 Where to begin with Damages? Damages is one of those shows that I resisted initially, and for which that initial resistance proved to be a measure of how strongly I now feel about the show. I find this to be a pattern: I often resist the shows or the characters within shows that turn out to be the most compelling. Perhaps there's something in these shows or characters that unsettles or sparks some type of productive resistance for me.
I can't remember what made us decide to start in on Season 3 of Damages this past year. I watched the first and second episodes with divided attention, my phone raised and twitter list loaded to catch up on the conversations on Big Love, Lost, or Supernatural. But that state of distracted viewing didn't last long; soon I was drawn in to this tightly woven serial mystery masquerading as a legal show. I was dually captivated by the masterful storytelling and by Glen Close's performance of the indomitable high-stakes litigator, Patty Hewes. I was also intrigued by Martin Short and Tate Donovan, both of whom gave performances with much more subtle force than I expected. Still I found myself resistant for a few episodes to the character of the young law associate Ellen Parsons (Rose Byrne) who finds herself seemingly in above her head. There was a period of several episodes where I would actually decry out loud that I did not understand the point of her character, or see what she added to the series.
But I'd venture to say now (as I move back in time to race through the first season on Netflix) that my initial resistance to Ellen stemmed from my too low expectations of what a show like Damages might do with two female characters, one older and powerful and another slight, young, and pretty. I expected Ellen to be a weak, powerless character—or an overly idealized, character there for eye candy—because surely the series only had room to depict the journey of one strong, complex, flawed woman. And in that, I am happy to say I was very wrong. The core of Damages, to me is its depiction of the struggles of two strong, complicated professional women. (I'll write another post on how the focus on female characters coincides with the series' compelling and unorthodox aesthetic and narrative structure.)
Over the course of its serial, mystery narrative, Damages paints a portrait of a lifetime of edges and compromises, successes, ambivalences, and sacrifices faced by two different generations of women fighting to be powerful in the world on a daily basis. A rare moment where Patty actually talks with Ellen about her personal life highlights the show's complexity on this front. In a single exchange—held over whiskey in the workplace—Patty warns Ellen that most men can't handle ambitious women, and that Ellen must search to find a significant other who won't reject her ambition; and yet this advice immediately follows Patty's suggestion that Ellen give her fiancé the false sense that he's in the driver's seat.
I find this unexpected instance of relationship advice from Patty to Ellen especially notable—an overt moment in which we see the characters directly address how traditional gender roles do or don't fit into their lives as professional women. This type of negotiation of the contradictions of lived gender politics isn't something we see very much on television; though I'm drawn to shows that hint at it, or give it to us in incoherent moments; (Gossip Girl, NYC Prep, The Gilmore Girls, and Veronica Mars come to mind…)
But with Damages, Ellen's and Patty's experiences are our center. I'd even argue that Damages is more about the high stakes of relationships between women and the navigation of the public and the personal as women than it is about the larger legal proceedings and narrative mystery (as intriguing and satisfying as that may be). When all is said and done and the mystery is revealed, core questions remains: what do Ellen and Patty see in each other? Why do they need each other and/or repudiate each other? What does Damages have to say about the possibilities and limitations of female power, as different generations of powerful women collide, align, and recognize their likeness in each other?