Report from the On, Archives! Conference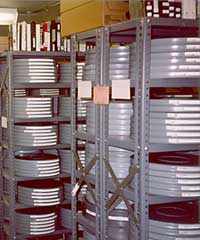 For those who may not know, the On, Archives! name is a play on words that encompasses the event's three key themes. First, it takes its form from "On, Wisconsin," the famous University of Wisconsin-Madison fight song. This is an appropriate tribute to the fact that 2010 marks  the fiftieth anniversary of the founding of the Wisconsin Center for Film and Theater Research. When one removes then removes the comma, one has a straightforward statement as to the conference's focus. Restore the comma, and one has a call to arms to take up the cause of archival research – and  archival construction and maintenance – and carry it forward in this young century.
On, Archives! A Conference on Media, Theater, and History was a fitting tribute to the Wisconsin Center. Featuring a special symposium on broadcasting in the 1930s and a variety of other offerings on all manner of topics, the four-day conference saw a diverse group of scholars from North America, Europe, and the United Kingdom engage in a series of panels that drew many useful connections across eras, nations, and media forms. The presentations and discussions consistently reinforced this need to examine issues and events in terms of broader contexts, whether it be the historical longue durée or the transnational development of mass media systems. It also emphasized the central role of archival research in these endeavors.
The 1930s were a particularly critical decade in radio's development as a mass medium and this era was addressed from a number of perspectives. Len Kuffert examined the development of taste communities in relation to Canadian radio during this period. Hans-Ulrich Wagner looked at the relationship between the prevailing regional identities and the emergent national culture in German radio of the 1930s. Anne F. MacLennan presented some of the early findings of her Remembering Radio project, which seeks to preserve and analyze the recollections of those Canadians who participated in this early period when individuals were still 'learning how to listen'. Sian Nicholas also presented her findings pertaining to 1930s radio columns in Britain. Her analysis elucidated the relationship between print and broadcast media forms during this period, highlighting the role of newspaper writers in the production of meanings around the BBC. Nicholas astutely reminded those in attendance that the the BBC had served a discursive "function" for various social actors during this period, and that these early formulations established the basis for the way in which the BBC would be perceived in the decades to come. Jason Loviglio's paper analyzed the aesthetic and thematic similarities between 1930s radio soaps and contemporary NPR hit "This American Life" to interrogate the meaning of the medium's representations of domesticity in different eras. His presentation provided a timely reminder that contemporary radio is deserving of increased attention from media scholars.
There were many fine presentations of archival research, but there were also presentations that examined the role of the archive and the researcher in contemporary life. Tim Wall and Paul Long of Birmingham City University called for academics to consider how they might operate as public service intellectuals. They asserted that, beyond the more conventional practices of conducting archival research and examining the institutions behind them, academics might have an important role to play in preservation and cultural memory projects. Long's presentation detailed his attempts to secure the resources needed to clean and catalogue the collection of deceased BBC producer Philip Donnellan. This provided a tangible example of the way in which such efforts of advocacy and facilitation might help to turn buried collections into accessible archives.
On, Archives! featured a  number of excellent keynote addresses. Tino Balio initiated the proceedings with a history of the early years of the Wisconsin Center for Film and Theater Research.  Kate Lacey concluded the first day with an excellent address that used her research in 1930s radio in Britain to urge those in attendance to look beyond the gendered active/passive dichotomy that pervades so much thinking about media engagement. Her talk set the  tone for a number of addresses that would deploy archival findings as a mechanism through which to interrogate dominant discursive constructs. On Wednesday, Matthew Bernstein talked about his own experiences as a film researcher in the Wisconsin archives, while noted film theorist and historian Marc Vernet gave the final keynote on Thursday in which he addressed the relationship between film theory and film history at the present juncture.
Obviously, On, Archives! featured far more than I can cover in this very limited report. The conference has to be considered  a tremendous success on all fronts. It boasted excellent presentations, invigorating discussions, and thought-provoking keynotes. It even featured an active Twitter backchannel via the #OnArchives hashtag. More than this, it generated a sense of excitement about archival work and its role in contemporary scholarship and public life.  While the event may be over, it seems that it has inspired many conversations that are only just beginning.