Army Wives, Safe Soldiers, and Online Smokescreens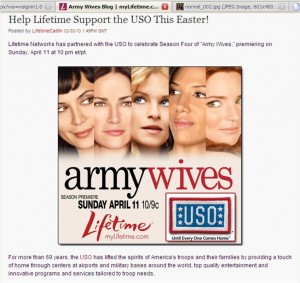 As everyone else was drooling over the final episodes of LOST, I fully admit that I was focusing on my weekly fix of Lifetime's Army Wives instead.  I have no shame in this but you can judge me if you must.  I also fully admit that I know only one other person who watches it (thanks MB Haralovich).  Despite its lack of cultural cachet, to me the show continues to illustrate an interesting tension between niche marketing, media convergence, and politically charged topicality.  For decades Lifetime has been the self-declared best stop for middle class to upper middle class white ladies seeking television entertainment, and although rocking a bit of an edge last season (and yes, I'm waiting with bated breath for Project Runway to hit the screen later this summer), they still seem to be playing the same niche card through their stories.  That said, they also seem to be hedging their bets and using newer media to cast an appearance of narrative and brand diversity.
For the past three seasons, Army Wives has projected its white, privileged image—with an abundance of white chicks and officers and a dearth of minorities and enlisted men.  It has also done a fine job of minimizing the apparent threat to or discomfort of the troops/families who have been manning the two American wars for nearly a decade.  Deployments run short.  Telephone conversations are extremely easy to come by.  Special Ops soldiers are on and off of the base (and seemingly home more often than long-haul truckers).  Money might be a little tight, but no big deal.  Child care is never an issue.  Officers' wives and enlisted men's wives just rally around each other, become best buds, and help each other out in all circumstances (protocol be damned).   For the most part, images of trauma—emotional or physical—have been done away with quickly (PTSD = a one or two week problem, tortured prisoners aren't really in that bad of shape, injuries are minor and really just mean that soldiers get to come home sooner, so no worries).  Anything really unfortunate on the show will likely happen to someone who is not a regular and might very likely be an ethnic minority.  For the first three seasons, main characters (constantly deployed) have been spared any extreme trauma.  Its flag waving, soap opera, Little Mary Sunshine quality makes it a fascinating fictionalization of today's international conflicts and a polar opposite to Stephen Bochco's short-lived, violent, politically ambivalent Over There.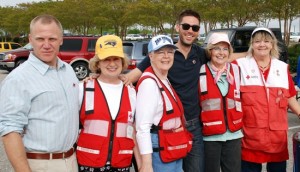 I have found these narrative patterns somewhat disconcerting (though predictable).  What I find most interesting about Lifetime's development of the show both on and offline is their use of non-diegetic cast appearances at military spaces (e.g., online PR spots with cast members at VA hospitals, deployment ceremonies, Red Cross events, etc.), integration of country music stars into storylines (e.g. Wynonna, Shelby Lynne, Jack Ingram), giveaway hookups with NASCAR, Avon, and Big Lots, and online spaces developed specifically to bring together real-life army wives.  The show/network seems to illustrate nicely the opportunities available to today's television bigwigs as they try to hawk their wares.  While the show seems to strongly avoid any gleam of the reality of wartime, the folks at Lifetime are doing a fine job using today's online opportunities to make an appearance of class diversity and a concern for military families and their realities.  I find this to be one more fascinating example of the ways in which media convergence encourages multiple divergent readings and a widened sense of marketability.  That said, I admit this season—which ends next weekend, I believe—has offered a little more excitement, with divorce (although so far, little concern for money woes and the army wife being booted off of the post) and a traumatic brain injury for one of the main characters (of course the woman).  Next week almost everyone will be shipping off to Afghanistan for a year.  I'll be waiting excitedly to see how the 2011 army wives deal with their spouses' absences (and might start a pool regarding how long it takes the husbands to really come home.  Perhaps they are counting on Obama decreasing troop levels to shake up deployments and bring the men back into the main narrative.).