Words are Cool: The Magic of Moffat's Doctor Who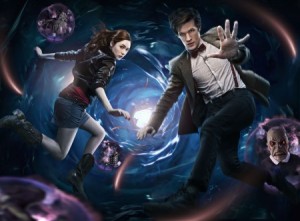 Now that series five has drawn to a close, how did Steven Moffat's first year as showrunner acquit itself? Billed as a 'dark fairytale', the series ended up edging closer to a version of stage magic. Surely it was no accident that Matt Smith donned a Tommy Cooper-style fez in "The Big Bang," for here more than ever before the Doctor was rendered as a magician. Young Amelia even asks "how can he do that, is he magic?" This was time travel as a brand of illusionism, less concerned with logic and rules of the ongoing series, and more concerned with creating moments of shock for viewers.
Along with representing time travel as a kind of parlour trick, Moffat repeatedly pulls one particular trick on viewers. His screenplays show us something we assume we understand, and then point out we've misinterpreted. That sun in the sky – it's not the sun. River Song saying the same thing over and over again – not a recording. Statues in "The Time of Angels" – not statues.  Even the series finale title, "The Big Bang," tells you the reset-button plot twist, you just don't twig it's been staring you in the face. Then there's Moffat's sly seeding of something old, something new, something borrowed, something blue into the Doctor's dialogue. Only when Amy intones the wedding ritual do we realise how the Doctor coded himself into her memories. The wedding day's been there all series, narratively flagged up, yet who had guessed the importance of that ritual phrase? It seems inevitable, yet simultaneously startling: a narrative event embedded in timey-wimey audience interpretation as 'of course!' collides with 'I didn't see that coming!'
That's Moffat's favourite trick: the detail already there, right in front of you, only you're misdirected by a conventional interpretation. It's a great trick too, sustaining an aesthetics of shock – not just the surprise of an unexpected reveal, but the jolting shock of "how could I not have spotted that?" Forget retconning; Moffat majors in retro-active re-interpretation as his narrative machineries snap into place with a telling phrase.
Words can save. Words matter. Series five is in love with magic, but with the magic of words especially. Ironically, its big buck, big bang visuals and CGI special effects are trumped by the most startling special effect of all: a blank, black screen then carrying a single inter-title caption: "1,894 years later…". Here is Moffat's mission statement boiled down to essentials: Words are cool.
Series five's treatment of the series-long arc has also emerged as different from Russell T. Davies's approach. Moffat refuses to give away all his narrative's secrets, creating a multi-series arc. Davies's work was haunted by excessively (or insufficiently) meaningful words; will we ever learn what The Moment was? These words implied whole tantalising worlds. Moffat's cause-and-effect arc works more directly: it has an absent cause. We don't yet understand what caused the TARDIS to explode, nor whose voice invaded the console room to announce "silence will fall." There's something behind the Alliance's plan; the Doctor's been framed, manipulated.
This new showrunner manipulates narrative complexity in a showy way – like a stage magician expecting his audience to gasp – and he's written a shadowy, manipulative force into Doctor Who. The unseen, unknown Big Bad of series one is perhaps a reflexive shadow of Moffat himself: the consciousness behind the story, plotting everything out. Some have speculated that Rose Tyler was Russell T. Davies's Mary Sue, wanting to run off with the Doctor. By contrast, it would seem that the unknown multi-series villain, intently pulling narrative levers behind the scenes, is Moffat's Mary Sue. We may all be stories in the end, but if that's true then the ultimate magician's power lies in who gets to construct those stories. Perhaps the force narrating the Doctor's universe isn't Omega or the Master. Perhaps the clues are staring us in the face… it's been the Showrunner all along.