Highs and Lows of Comic-Con 2010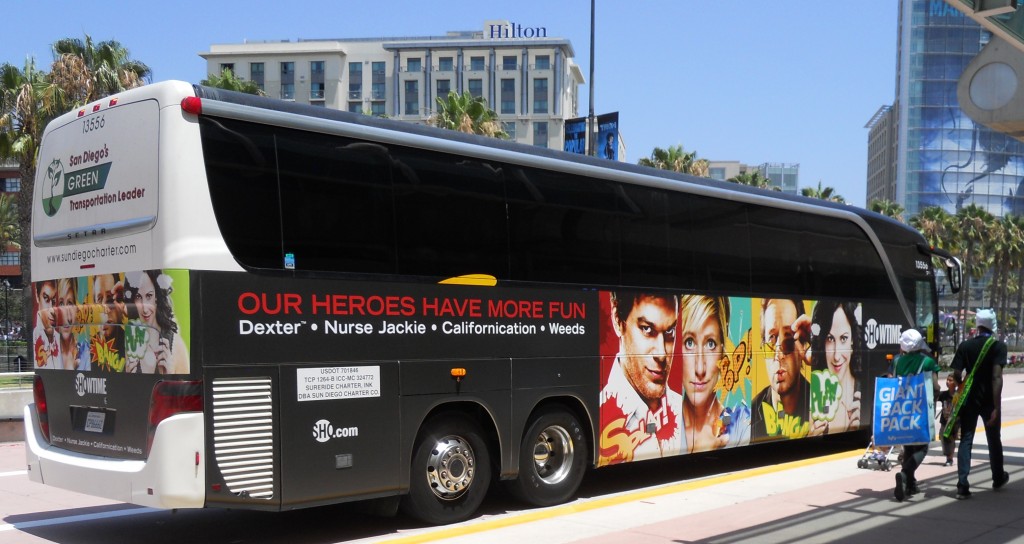 Writing about Comic-Con proves to be quite the challenge in 2010. With at least seventeen panels running concurrently, and a reported 126,000 people roaming the halls (and waiting in line), there is no singular Comic-Con experience. Those with an interest in movies, TV, games, toys, and of course, comic books, are all likely to find something to satisfy them, assuming they can get a ticket to the sold-out four-day gathering and score a seat at a desired panel. (After waiting almost an hour, I failed to get into Sunday's Glee panel in the 4,200-seat Ballroom 20.)
If you read the daily coverage from various TV, film, gaming, web video, and comics outlets, you might find it hard to believe that these writers all attended the same event. I was amused to hear one television critic talk about the growing prominence of television panels (e.g., Community, White Collar) only to, shortly thereafter, read an article from indieWIRE noting the heightened presence of indie films. Indeed, as much as it desperately needs a bigger venue, it might also be time to come up with a new name. Comic-Con does not accurately capture the range and diversity of events on offer.  Perhaps a better name might be "PopCultureCon" (or if you're a cynic, "MarketingCon"), as seemingly any media property with the potential for generating buzz is on display. In fact, perhaps the only medium with a smaller presence now than it has had in years past are comics themselves, about which I've written elsewhere.
I tried to sample a variety of panels during my time at the Con. On Thursday, for example, I made it inside the infamous Hall H for Sony's Salt/Battle: Los Angeles hour. Seating about 6,500, it's the largest room in the complex, and the place where all the major motion picture distributors screen trailers and clips from their biggest upcoming films. During the first half of the hour, Salt director Philip Noyce, producer Lorenzo di Bonaventura, and stars Angelina Jolie and Liev Schreiber briefly chatted with the moderator and then took a handful of questions from the audience. As their portion of the hour-long panel concluded, many in the audience departed. (Apparently, Jolie trumps Aaron Eckhart and Michelle Rodriguez in an alien invasion film.) The same general format was then repeated – clips were screened, moderator and/or audience asked questions, talent darted out the back.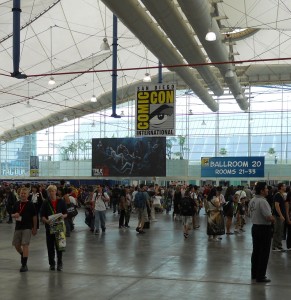 On Friday, I checked out smaller rooms and less hyped events. One panel I attended was for NBC's mid-season series, The Cape, a superhero-themed action show featuring David Lyons (ER) and Summer Glau (Terminator: The Sarah Connor Chronicles). The company screened what seemed to be a condensed version of the pilot (which I found underwhelming and cliché-ridden), followed by a brief Q&A with the creator, producer, and key talent. Based on the lukewarm audience response, I wouldn't be surprised if it was retooled prior to airing.
Following The Cape panel, I headed over to Room 25ABC, where I squatted for the next couple of hours, waiting for the Roger Corman/New World panel. One of the odd aspects of Comic-Con – and, in my estimation, something desperately in need of being changed – is that once you secure a space in a given room for the day, you can stay for as long as you like. If you are interested in all of the panels taking place in the room, this is a great thing. But most people are waiting for one specific panel and thus sit through several earlier panels texting, playing games on their cell phones, flipping through the Con program, etc.
It is impossible to know how many seats will open up for a given panel. (See: my being shut out from the Glee panel.) As such, I planted myself in the room hours in advance. During my time there, I sat through a panel paying tribute to "The Adams Family" of comic book artists. This was followed by a panel sponsored by the small publisher, Archaia, devoted to a comic book, Lucid, and backed by Heroes/Star Trek star Zachary Quinto. As is often the case with such panels, it is hard to know how many people are there to hear the thoughts of the creative team and how many are there just to catch a glimpse of a particular star. Though I was mainly biding time through this panel, it did produce one of my favorite moments of the Con: Quinto publicly cut off an oblivious audience member to ask what he was talking about on his cell phone. It's nice to know that the strategies used by teachers in the classroom work equally well when employed by Mr. Spock.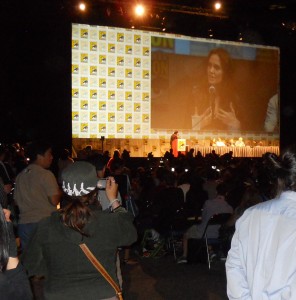 I'm happy to report that my hours of waiting for Roger Corman paid off, as I landed a seat close to the front. I was able to hear him, along with Joe Dante, Sid Haig, Mary Woronov and Allan Holzman, talk about their experiences working for New World Pictures in the 1970s and 1980s. Though the panel was far too brief to allow for the kind of in-depth discussion I would have liked (and audience questions were not permitted), we nonetheless heard some amusing tales about life in the "Corman Academy." Interestingly, the next panel to take place in the room was for the videogame Gears of War 3. Based on the behavior and composition of the audience during the New World panel, you could tell that many were waiting for the subsequent panel. I only hope that those biding their time for the next panel had their interest piqued by tales of the shooting of Piranha and Rock 'n' Roll High School.
Did you attend Comic-Con this year – or have you in the past? I would love to hear your thoughts on this event, or on how you think it has changed over the years.