Mad Men, Episode 4.2: Everything New is Old Again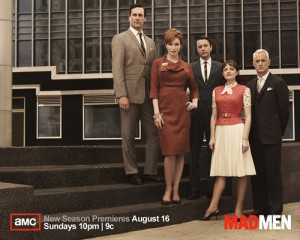 After the exciting new sets, haircuts, fashions, and even a new, chastened, Don of the season opening, episode two shows us that it's not so easy to escape the familiar grooves of custom and habit. Several of the story arcs show characters attempting and failing to break out of last season's patterns, including Don's return to form as the irresistible cynic. Freddy also returns (and why Freddy? I want Sal back!), a newly clean and sober freelancer but still mired in his hackneyed and old fashioned ideas. Sally has a new family but is trapped in her old house. Faye, the consumer researcher, tells Don, "Don't worry… you'll be married again in a year," even though "Nobody wants to think they're a type." In the end, though, this episode felt like filler with the audience stuck waiting along with the characters for some kind of forward movement. While it may be important for character development, aimlessness does not make for exciting television.
When I was invited to contribute to the Mad Men commentary, my area was race and Mad Men. Obviously, it is not an easy assignment for this episode. This is a disappointment given the glimmers of hope last season, including Pete's interest in targeting an African American consumer, the connections between Betty and her housekeeper Carla, and even Rodger's agonizing blackface performance which brought issues of race up to the surface in Season 3. It's a measure of my desperation that I still wish that Don had been more than tempted by the Asian female waitress who propositioned him in Season 2 (although given her dress and make up "Oriental girl" might be a more appropriate description). As far as I can recall, her scene is the only time someone Asian has spoken in the series. In this season so far, race appears to be almost entirely absent. Carla mostly functions as a symbol of Betty's poor mothering, and civil rights was only mentioned as a way to separate the "bad" characters (Bert and the male consumer researcher who see civil rights as a step away from socialism) and the "good" ones (Faye who mocks them both).
I think that Mad Men gets it right so often, the period detail, great dialog, strong acting, and the complex ways it explores how masculinity came under fire in the 1960's, so I want to give the show the benefit of the doubt when it comes to race. After all, the characters, like most people during the 1960's, were largely untouched by the turmoil of civil rights. The current season occurs right in between the Civil Rights Act of 1964 and the Immigration Act of 1965 which will fundamentally alter U.S. culture, but most people in the social and cultural class depicted in the show won't feel the effects for years, if ever. And isn't this the core of white privilege? It's the luxury of ignoring race, of floating above the racial strife that surrounds them. What I wish, though, is that like the ennui of the characters in "Christmas Comes But Once a Year" the show could find a way to portray racial privilege without replicating its effects in its viewers.