Geek Hierarchies, Boundary Policing, and the Good Fan/Bad Fan Dichotomy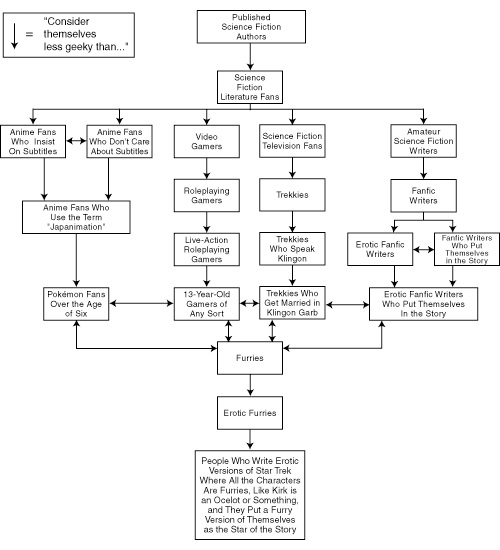 "And then there are always the furries"
Almost twenty years after Henry Jenkins's discipline defining Textual Poachers, it comes as a surprise to still see fandom being associated with fanatics and obsession, especially from within academic subcultural disciplines (see, for example, the conversations in Ian Bogost's blog post). And yet it really shouldn't. We may be several decades removed from the emotional upheavals of the culture debates, but popular studies remains a readily mocked area in mainstream media, especially as universities are often asked to produce efficient and effectual employees rather than well rounded individuals (though I personally would actually like to see a bit more self-reflection amongst ourselves about what ideologies undergird and in turn are supported by such emphases on well rounded liberal arts education).
What interests me here, however, is the gender bias that not so subtly pervades much cultural conversation surrounding fan conversations. And I'm not even talking about the ready truism that enthusiasm among typically male fan objects, such as sport and even music, are generally accepted whereas female fan interests are much more readily mocked. Instead, I want to look at the strong feminizing and infantilizing bias that often goes along with the mockable fan endeavors, whether it be the stereotypical basement dweller (who clearly can't get a girl, the ultimate evidence of masculinity in a thoroughly heteronormative culture) or the reproach that one should outgrow one's interest in dolls, games, pop stars, or TV characters. More specifically, I am interested in the specific ways in which fans themselves create good fan/bad fan dichotomies that repeatedly set up community criteria that proscribe certain behaviors and exclude those that don't abide.
Lore Sjöberg's geek hierarchy is so popular, because it replicates the stereotypes that popular culture points at fans: wherever one is situated in terms of mockable fannish behavior, there is clearly a fannish subgroup even more extreme than one's own—unless one is a furry, of course (a fan of a fictionalized anthropomorphic animal character). But the same is true within specific fan groups as well. Some fans try to legislate their portrayal towards outsider: some fans try to wield community pressure against those not following rules like "Don't show fan works to The Powers That Be" or "Do not make money off fan works"; others try to create moral imperatives against certain types of fan works they consider immoral or reflecting poorly on their fan community in general; others yet try to represent their fan community as intellectual, artistic, and thus appealing to the public. (And I am well aware, that this particular reproach is indeed one that can be directed at acafans in particular!)
What underlies much of this border policing is a clear sense of protecting one's own sense of fan community and ascribing positive values to it while trying to exclude others. While this is quite understandable behavior, what interests me here is the way fans replicate negative outsider notions of what constitutes fannishness, often using similar feminizing and infantilizing concepts. Accusations of being too attached, too obsessed, too invested get thrown around readily, and all too often such affect is criticized for being too girly or like a teen (see, for example, the In Media Res Celebrity week). Interesting here is the fact that female teens thus embody a category that is simultaneously oversexualized (insofar as their libidinal attachment is clear in their hysterical squee) and undersexualized (insofar as they are not meant to understood as sexually active). So affect is feminized and too much affect is being a bad fan, which makes me wonder how much subcultural capital we as acafans actually wield in fandom and how much we simply replicate in other arenas popular cultural reproaches—and how to overcome this fan-hating fan identity.