What Are You Missing? August 1-August 14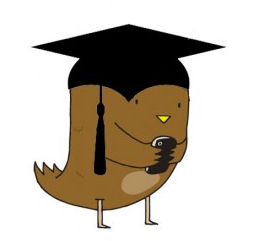 1. Twitter's growth is being fueled by international users; in fact, the 20 billionth tweet came from Japan. One cool notion in the latter article I hadn't thought of: the Japanese language enables you to say more in 140 characters than you can in English. Conversely, it is apparently hard to say less in 140 characters than MTV's new Twitter jockey has. In more creative news, there's the story behind Fail Whale and the recent emergence of the #browntwitterbird (which now has its own account).
2. Social media now occupies the top spot on the list of ways our time is wasted spent online, with Facebook overwhelmingly dominating the category and upstarts like Tumblr on the rise. This is affecting how we consume news, as well as how movie companies market films to us. But though it's hard for my addicted self to imagine, 21% of Americans say they don't use the internet at all.
3. The book is dead, the book is dead, long live the book, or at least the bookfuturist. If books die, where we will ever find the room to bury the 129,864,880 we have now?
4. The big internet news of this fortnight has been net neutrality & the Verizon-Google proposal; if you missed any of it, I suggest Wired's links to ten media takes. Otherwise, there's been good news for Internet Explorer, Skype, and Auto-Tune the News; bad news for Google Wave, AOL, and Digg; and unsettling news for Amazon Prime members and internet users who don't realize how much their personal data can be tracked online. Finally, the news handed to Forbes bloggers is either good or bad depending on how they feel about basically being paid per hit.
5. Hollywood needn't rush home to show its mid-summer report card to its parents, and even 3D earnings are starting to slow, while resistance to 3D within the industry is growing. Matt Zoller Seitz wants 3D filmmakers to push toward a more radical future. In light of the WSJ's piece on the ever-rising clout of international distribution, one wonders how the overseas reception of 3D will factor in.
6. There were some good profiles this fortnight on the challenges and successes of indie cinema, from a look at the long journey of Colin Fitz to a five-part chronicle of the making of the Emmy-nominated documentary The Way We Get By to tips from the writer of The Disappearance of Alice Creed on how to write for a low budget. Meanwhile, Michael Moore is fighting for the future of single-screen theaters.
7. Blockbuster is partnering with Comcast to make its DVD-by-mail service more competitive with Netflix, and the company has also added video games to its delivery offerings. But Netflix is pushing its services more toward streaming than mailing, landing a significant deal with Epix that was an expensive but, says David Poland, necessary gamble. The rental delays that Netflix and Redbox agreed to earlier this summer are apparently paying off for DVD sales, but libraries might beat everybody out in the end.
8. American Idol has jumped to Universal for promotion and distribution of its music, which could be a big blow to previous partner Sony, and Universal has also made nice with MTV over digital advertising rates for streaming videos for Video Music Award voting, though all other streaming rights are still in dispute. Kazaa has made a lackluster return, and the summer tour scene has also been a dud, while HD radio is on the rise and public radio is standing strong.
9. The video games industry is in a state of disruption right now, such that it's hard to pinpoint what the term "video game" covers anymore. But a group of gaming panelists still tried to predict the future of video games, and that future could include playing games with only our eyes. Looking back on the past, ESPN's Outside the Lines offers an in-depth look at the development of the colossal "Madden NFL" game, the Entertainment Software Association has released a report detailing the economics of the video game industry from 2005-2009, and Nintendo says it's sold 30 million Wiis since the unit's 2006 launch.
10. My favorite News for TV Majors links from the past two weeks: Sportscenter Changes, Content Industry Doomed…Again, Satellite Up, Cable Down, Aca-Fan Dialogue, Tabloid News Middle Man, Cable & Network Ages, Miles & Reality TV, Questioning Ryan Murphy, Modern TV Online, CBS-Comcast Retrans Deal