What Are You Missing? Aug 29-Sep 11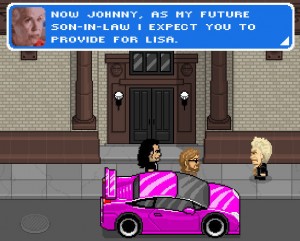 Ten (or more) media industry stories you might have missed recently:
1. This time around, the video game anniversary of note is the Playstation, which has turned 15, and Joystiq celebrates with gifts of not just one but two infographics. This also makes it a good time to ask if classic video games still hold up. We'll see if Madden on Facebook will hold up. I'm 100% certain The Room Tribute Flash game will; how could it not?
2. The music industry continues to struggle with sales, and while on iTunes music is still central, apps downloads may soon surpass song downloads (though The Oatmeal has a great cartoon about how we really feel when buying apps), and music labels aren't cooperating with Ping but are cooperating with Google. Maybe Iron Maiden has the solution to the music industry's problems.
3. Paste Magazine was among the print casualties this fortnight, and Arthur Sulzberger announced the New York Times would be one someday. Right now, newspapers are struggling to maintain their advertising share, and Gawker is beating all newspapers but the New York Times in online hits share, while Vogue is working to make both its print and online sources more advertiser friendly, and Playboy has become more blind-reader friendly.
4. It's Hollywood summer summary time: summer was slow, attendance was down, ticket price gouging was up, there were summer trends and summer winners and losers, but Kick-Ass wasn't the loser many first thought.
5. In indie cinema, it's been a good year for documentaries and a good summer for women in art house seats and behind cameras, but it's been a tough summer for specialty crossover hits and a tough everything for Terry Gilliam's Don Quixote project. What it'll be for I'm Still Here is being hotly debated.
6. Redbox hit its one billionth DVD rental, and now it's looking to a new horizon: streaming. Google wants to compete in that realm too, one that has helped to make Netflix's CEO a very rich man. Blockbuster actually has an advantage over the others in being able to offering certain rentals earlier, but it might not have the money to market that fact to consumers. iTunes and video-on-demand consumers can see Freakonomics earlier than even theatergoers can, and David Ehrlich believess such a model can actually help theaters in the end.
7. Twitter now touts 145 million registered users worldwide, but still has yet to truly go mainstream. It's increasingly a key news platform, however (the Ford Explorer verdict story is especially striking), as well as a music industry factor, and for its alchemy with Werner Herzog and Kanye West (or so we presume) alone, we have to be grateful it exists.
8. Jaron Lanier doesn't like social media forms; Pepsi loves them. Jim Louderback doesn't like viral videos; Arcade Fire loves them. Nicholas Carr doesn't like hyperlinks; Scott Rosenberg loves them.
9. The new Digg got criticized by old users and pwned by Reddit users, part of a larger trajectory of decline for Digg, which has responded to its latest problems by firing an engineer and asking users to chill out, while Reddit has responded by preparing for expansion. No matter who claims supremacy, it's tougher than you might think to measure online traffic. YouTube Instant certainly got a lot of traffic, so much that YouTube's CEO offered its undergrad student creator a job. Maybe he could help YouTube finally turn a profit.
10. Some good News for TV Majors links from the past two weeks: Bordwell Says Don't Bother, Univision Wins 18-49, Please Don't Call It a Recap, State of Network News, Ramadan TV, Too Much TV?, Smaller Channel Squeeze, Comcast Charity, Done Deal, Apple & Amazon News, TV the New Cinema?, Emmy Coverage.