Tweets of Anarchy: Showrunners on Twitter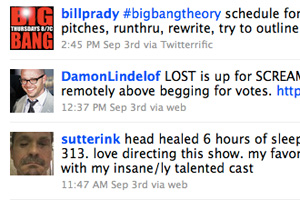 While there have always been strong personalities behind-the-scenes in television, including recent examples such as David Milch and Aaron Sorkin, until recently there were very few outlets in which the general public could directly bear witness to the character of television showrunners; stories were written about their personalities and how they influenced the creative process of their respective series, but it was predominantly second hand information. Outside of award show acceptance speeches, occasional interviews, DVD commentaries, or (in Sorkin's case) run-ins with the law, the television showrunner was a largely private figure during the day-to-day airing of their series.
However, showrunners are now becoming active participants in conversations surrounding their shows, both formally (Damon Lindelof and Carlton Cuse's Lost podcasts) and informally (Louis C.K.'s decision to wade into comment threads of Louie reviews); combined with their more prominent role in DVD bonus features and the proliferation of television journalism online, showrunners are becoming veritable celebrities among viewers of television. This is perhaps no more apparent than on Twitter, where showrunners (including Lindelof, Cuse, ,C.K., and numerous others) gain tens of thousands of followers who desire to know more about who is behind their favourite series.
In many ways, Twitter is a fantastic opportunity for showrunners. The Big Bang Theory's Bill Prady has been using his Twitter feed to remind viewers that the show is moving to Thursday night, while Community's Dan Harmon has been using his Twitter feed to help bolster the show's viewers against the insurrection of Prady's series to their timeslot (the two even collaborated on matching avatars, each featuring "THU 8/7c," to build hype for their impending battle). With this sort of behaviour, often done in conjunction with answering fan questions or offering insights into the production of the series, showrunners directly facilitate fan community.
However, as most showrunners have discovered, Twitter can be a double-edged sword. While Bones' Hart Hanson is an active participant on Twitter in promoting his series, he also bears the brunt of the attack when fans become frustrated with the series (in particular the drawn out romantic tension between its leads). And while Lindelof and Cuse were showered with praise when Lost hit its high notes, they were inundated with frustration following the divisive series finale.
By putting their reputations on the line – and online – showrunners open the door to potential rewards (viewer loyalty, new viewers, professional transparency), but as they also face definite risk. There is perhaps no better example of this risk/reward principle than Sons of Anarchy's Kurt Sutter, who one would likely classify as television's renegade showrunner. Giving voice to every showrunner's id, Sutter uses Twitter and his personal blog to criticize the television industry and his critics through a mix of cogent analysis and four-letter words; where other showrunners avoid calling out the Emmy Awards when their show is ignored, or resist responding to critics who write negative reviews, Sutter has made a conscious decision to present his own perspective without any sort of filter.
The question, at this point, is whether or not his "larger than life" personality has become larger than the show itself. While his notoriety has been a source of promotion for the series, which has only grown in popularity since he began blogging and tweeting in earnest, there is a risk that his actions could overpower the series' narrative; the Los Angeles Times, for example, chose to profile Sutter rather than his series ahead of its third season premiere.
Some would argue this is actually valuable: the brash masculinity of Sutter's online persona is heavily echoed within the series itself, meaning that the association could be seen as an effective (and novel) way to market the series. However, if Sutter's extra-curricular activity becomes a primary association for potential viewers – which is happening more as his Twitter feed and blog posts are extending beyond social media to a more general audience (as the L.A. Times profile and mainstream coverage of his criticism suggest) – it is possible that the series' subtleties, which include strong female characters, could be obfuscated. What fans could read as refreshing honesty could be read as outright arrogance by others, and while Sutter would likely argue that those put off would be unlikely to watch the show in the first place there remains the potential for lines to blur between the series and its creator.
For the most part, of course, these kinds of issues will largely remain confined within a small subsection of the viewing public – Sutter has 12,000 followers on Twitter, compared to Sons of Anarchy's 4.1 Million viewers. However, the active participation made possible by Twitter and other forms of social media has changed the dynamics of audience/showrunner relationships, and as showrunners like Sutter test the boundaries of this new dialogue we learn more about where this relationship may be headed in the future.
Editors' Note: a reminder that we like to keep comments civil and constructive here at Antenna. Those comments that seek to insult or vent, or that don't materially contribute to the discussion, will be withheld.