Arthur Penn and Live Television Drama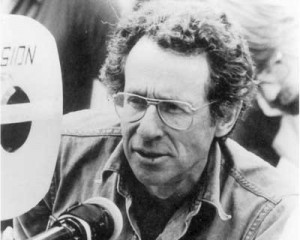 Arthur Penn, who died Tuesday, was best known for directing the epochal Bonnie and Clyde (1967). Tributes have recalled his other contributions to the "New Hollywood" (such as Alice's Restaurant and Night Moves) as well as his earlier achievements in the theater (Two for the Seesaw, All the Way Home). Typically mentioned only in passing is Penn's work in live television. Even in Dave Kehr's excellent obituary, Penn's direction for such shows as Philco Television Playhouse and Playhouse 90 is represented largely as a springboard to later successes on Broadway and in Hollywood.
But there's reason to appreciate Penn's television work as an achievement unto itself. He directed dozens—likely over 100—episodes of live television between 1953 and 1958, working in the medium's most prestigious genre, the prime-time anthology drama. In this format, directors had a week or two to read, cast, rehearse, and block a full play, which would then be aired live. Any bummed lines, missed cues, or technical mishaps were witnessed by an audience potentially numbering in the millions. Live anthology drama was a unique, and uniquely demanding, hybrid of cinematic découpage and theatrical immediacy and peril.
Penn's first television job was on the West Coast, as a floor manager for the Colgate Comedy Hour. His ticket to New York and live anthology drama came courtesy of the NBC producer Fred Coe, who hired Penn to direct The Gulf Playhouse: First Person, a new, experimental series in which the camera assumed the optical perspective of each episode's protagonist.
In 1953 Penn was promoted to one of NBC's flagship anthology series, The Philco/Goodyear Television Playhouse (the show alternated sponsors). Penn helped develop a Philco "house style" featuring long takes and precisely calibrated camera movements delicately tracking the complexly choreographed movements of actors. This style was deliberately unshowy, placing the focus on the words and performances. Many of these performances were by a New York-based stable of actors trained in "the Method." Walter Matthau, Martin Balsam, Eva Marie Saint, and Paul Newman were among those who regularly worked with Penn in live television, at the dawn of their careers.
Penn's best Philco episodes are intimate dramas of everyday problems which evidence Penn's extraordinary rapport with these young actors. "The Joker" (May 1954) is a two-hander starring Balsam as a man who regresses at every opportunity to adolescent ribaldry and pranks; this alternately charms and repulses his lover, played by Saint. The cameras follow the pair as they inch closer and then pull apart in a engrossing dance of affection and alienation. After Philco, Penn moved on to the ambitious Coe-produced series Playwrights '56 and Playhouse 90. The latter, at 90 minutes and costing up to $500,000 per episode, was the Queen Mary of live anthology drama.
Despite being at the top of his profession through much of the 1950s, Penn did not then achieve the fame of his writer-collaborators like Robert Alan Aurthur, Paddy Chayefsky, and Horton Foote, who are often credited for sustaining a brief "Golden Age" of live television. Anthology drama was viewed as a "writers' medium." This idea is traceable to producers like Coe and CBS's Worthington Miner, who promoted the artistic independence and integrity of the "tele-playwrights" to raise televison's cultural profile.
This view remains largely in place today, and while defensible, it's also served to obscure the role played by directors like Penn in forging the aesthetics of live television drama—and the continuities between their television, theater, and film work. Indeed, Penn's first two feature films, The Left Handed Gun (1958) and The Miracle Worker (1962), were both adaptations of television plays. The Miracle Worker, in particular, is a fascinating example of re-mediation. It was originally an episode of Playhouse 90, then a highly successful Broadway play, then a feature film. Penn, Coe, and playwright William Gibson collaborated on all three versions, and the film kept the stars of the stage adaptation, Anne Bancroft and Patty Duke. The film retains the stage play's brutal bouts between Helen Keller and her tutor—a special case of the Method ethos of externalizing complex inner states—while largely extending the anthology-drama aesthetic of long takes and bold deep focus.
The stage adaptation of The Miracle Worker continues to be performed, most recently in a Broadway revival starring Abigail Breslin and Alison Pill. The Oscar-winning film turns up on American Film Institute lists and can be watched and rewatched on DVD. By contrast, kinescopes of the original Playhouse 90 version—along with thousands of other episodes of live anthology drama—are housed in a few archives and private collections, inaccessible to the larger public. Indeed, with the exception of a half-dozen canonical episodes recycled on home video (for example, on the Criterion Collection's Golden Age of Television DVD set) this important moment in American media history has been invisible to several generations of consumers and scholars. One hopes that projects like the Television Academy Foundation's Archive of American Television, which has issued several DVDs of live television, eventually release "The Joker," "The Miracle Worker," and other episodes of anthology drama, so that scholars and fans can begin to understand this period of Penn's career—and the careers of other live-television directors such as Sidney Lumet, John Frankenheimer, Franklin Schaffner, and Robert Mulligan—as more than a stepping stone to Broadway and Hollywood.
Some Sources:
An interview with Penn concerning his television work is available on the Archive of American Television website. Two books of interviews with directors of live television, both featuring Penn, provide invaluable information about the medium: Ira Skutch's The Days of Live (Los Angeles: Scarecrow Press, 1998) and Gorham Kindem's The Live Television Generation of Hollywood Film Directors (Jefferson, N.C.: McFarland, 1994). Also useful is the autobiography of Penn's colleague Delbert Mann, Looking Back… at Live Television and Other Matters (Los Angeles: Directors Guild of America, 1998).