Ambient Nationality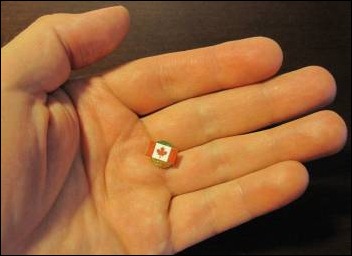 When I logged out of Hotmail on Sunday morning (yes, I still use Hotmail, though only for lists and personal email), an odd thing happened: I was taken to a rather boring Bing page telling me about movies in the Madison area. This is not what's meant to happen. Usually, and despite living outside Canada since 1999, Hotmail logout has led me to an MSN Canada page.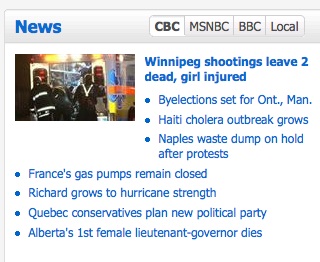 I usually click off that page in a few seconds, largely disinterested in and by the news of Canadian Idol contestants, small political rumblings in Saskatchewan, and news of the latest exchange rate between the US and Canada. It's not an important part of my media diet, in other words. Or, rather, I didn't think it was.
But the experience of having this tiny bridge to my nationality unceremoniously destroyed has bothered me. I'm realizing how important that page was for letting me feel Canadian in very small ways for very small time segments (which, after all, is how Canadian nationality tends to work, no?). I've long lectured about expat, transnational, and hybrid media in my classes, usually popping in the opening scenes of East is East or Salaam Namaste, discussing my enthusiasm for CBS's airing of Flashpoint (a sniper procedural in which guns rarely ever get used: how Canadian can you get), or talking about international sporting events. But now I see the lynchpin that this simple website plays in helping me feel Canadian.
For all the interest in grand national statements, we might also ask about the least amount of media that expats need to feel connected. I used to think I just needed to be somewhere with a hockey team, not because I actually or necessarily care to follow the team, but because it means that my everyday life will occasionally involve seeing a hockey jersey, hearing someone talk about an amazing deke, or so forth. There's very little Canadian content that I actively seek out. I feel, instead, that I just want a faint background of Canadianness. Here, Colin Tait's 1/5 rule comes into play too (he notes that usually 1 out of 5 cast members in any TV show is Canadian). And now I have the very mundane, frequently full of nonsense, MSN Canada homepage missing.
Which makes me wonder if we've been approaching transnational engagements with media from a limited perspective. For all the interest in using foreign media to immerse oneself in a foreign nationality – an interest expressed both by academics studying transnational media consumption, and by racist critics who think that Univision or Cinco de Mayo celebrations aren't "American" enough – perhaps what a lot of us want/need is simply a background, faint, weak, unobtrusive ambience. Put another way, if any given individual's experience of national identity may be ambient, appreciating a national dish here, a hat-tip to local knowledge there, perhaps much transnational media use is similarly about encounters with the ambient and the mundane, not (just) the big and showy?