Media, Mothers, and Me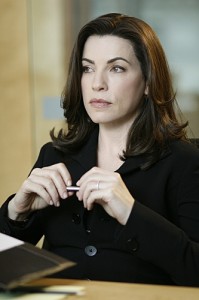 When The Good Wife was announced last fall my first reaction was interest, as Julianna Margulies and Christine Baranski are both awesome, but that reaction quickly turned to apprehension. Infidelity is the one topic I really avoid in entertainment if I can help it, and I had no interest in seeing this play out. However, the power of word-of-mouth swayed me when a number of my friends–friends who tend to not have much of a fannish love intersection–raved about the show. I gave it a try, and I got hooked. Watching a season in the course of just a few days is always a heady experience, and one that differs from following a series as it airs, week by week. The compressed viewing can highlight weaknesses, but it can also allow longer story lines to gain impact for the viewer, benefitting from the accelerated narration.
Yet neither the larger story lines, such as the myth-arc of corrupt politicians and unjustly imprisoned husbands, nor the smaller, episodic court case narratives were what kept me watching. Rather, I found that the depth of the characters and their interactions had me riveted and wanting to see more. Bechdel test aside, it is nice to see three main female characters interact about everything other than their relationships to or with men. It is even nicer to see these women struggle and yet remain sympathetic and strong. I'm looking at Alicia Florrick and I feel myself identifying more than I have with many other characters who more closely resemble me and my life. It is the program's demonstrated ability to show depth without needless melodrama and stereotyped caricature that I've fallen in love with.
By genre classification, The Good Wife is, disputably, a procedural. And what's more, it isn't even innovative as such. The audience is usually presented with one case per episode, and the good side tends to win: defendants are innocent and are vindicated in the nick of time. I'm not sure we have a more precise category for such procedurals cum drama (which seem to cluster in medical and legal settings), but it is the characterization in these shows as well as those in more traditional prime time soaps that I measure Alicia's portrayal against. I don't identify (or even much like) most of the characters on Grey's Anatomy or Parenthood to use two shows I still watch as examples. The drama tends to be extreme, not in the actual issues–because clearly the imprisoned husband and large political scheming are dramatic indeed–but in the responses to those issues. The appeal for me is that the show succeeds in presenting mature adults with adult capabilities beyond their profession, and yet the women are not dominated by any single issue in their lives–neither motherhood nor work nor their sexuality.
The balance of work drama and home issues presents Alicia in different roles that do not defer to one another (mother, lover, wife, professional) but rather mutually influence and affect. This feels like my life: constant negotiation, juggling of different roles and responsibilities, the small concessions and compromises that are part and parcel of most adult lives. In my favorite line of the show, former boss Stern tells Alicia "I always thought the CIA could take lessons from the suburban housewife," calling out the similar emotional demands of Alicia's different roles. The show doesn't shy away from the challenges Alicia faces in negotiating her adult life; this is more than I tend to expect to see on television, where story lines often trade in emotionally false dichotomies. "Issues got more complex. And I grew up," Alicia explains to her brother; this is the moment where I feel that I am seeing a real person on the TV screen. People may up and run to Africa and break up relationships in airports (example), but most of us go to work and pick kids up from school and have fights and make up and continue on with our lives.
In Alicia, we are presented a woman who's recovering from an immense emotional trauma and upheaval in her life, but whose response isn't extreme. She isn't divorcing her cheating jail-bound husband, but she refuses his demands in a way that make it clear he's not used to refusal. In the subtle details we see her change and grow, rather than in big melodramatic gestures, and this is why I love the show. At one point, her husband and potential lover discuss a court case while Alicia prepares coffee for everyone in the kitchen. When she moves to present some cakes along with the coffee, she suddenly throws them back in the box, clearly redefining her role. Emotions may not be writ large in this drama, but the message comes through loud and clear nevertheless: this Good Wife is not simply a suburban mom who was publicly shamed by her husband's infidelities. She is a host of other things at the same time, as are we all. Adult issues are complex indeed!