Analog Video and Derisive Laughter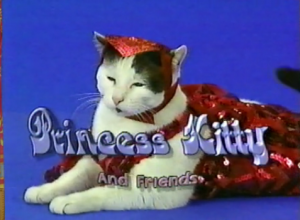 Recently, The A.V. Club began hosting a series of short web videos by the curators of the Found Footage Festival, a "one-of-a-kind event that showcases footage from videos that were found at garage sales and thrift stores and in warehouses and dumpsters across the country." These videos have become regular viewing for me, complementing my occasional perusal of the website Everything is Terrible! (which "take[s] forgotten VHS tapes of all kinds and edit[s] them down into easily digestible viral videos"). By purveying the best/worst in bargain-basement VHS excess, these websites trade in the simultaneous ridicule of absurd performance and obsolete media technology. The rubric for inclusion into the Found Footage Festival gets to the heart of the matter: "1) Footage must be found on physical format. No YouTube. 2) It has to be unintentionally funny. Whatever it's trying to do, it has to fail miserably at that." I often laugh at these videos, but why?
On a basic level, much of the material is damn funny. The pleasures that await include dating service videos; Kathie Lee Gifford rapping; and Club Mario, a particularly egregious offender in the wasteland of canned 1990s "extreme" youth culture. The cult fascination of these texts carries affinities with paracinematic appreciation, and it also follows familiar lines of camp, kitsch, and/or irony. But there is also an element of earnest nostalgic pleasure. As Lucas Hilderbrand writes about workout videos, revisiting these tapes might bring about "a double-edge affect of shame and affection." And just like the workout tapes, many of these found videos carry the battle-scars of worn-out videotape and overuse. For the Found Footage Festival and Everything is Terrible!, the various signifiers of "imperfect" older technology figure as another part of the joke.
Makin' Tracks to Branson! from Everything Is Terrible! on Vimeo.
On the other hand, my laughter tends to catch when I consider its dimensions of mockery. This is made explicit, of course, in the Found Footage Festival's description of its exhibits as miserable failures. Moreover, the Found Footage Festival is hosted by two droll hipsters and, well, the title of Everything is Terrible! says it all. But like any good student of cultural studies, I worry when the Found Footage Festival and Everything is Terrible! focus their mockery on people, genres, and practices existent at the bottom of any number of cultural hierarchies. Moreover, the ridicule of videotape as a technological form suggests a masculinist, Western logic that privileges advanced technology and the mastery of that technology in the production of knowledge.
It follows that these videos become purportedly funnier as our contemporary media technology gets "better." From there, it's not hard to extend the idea of "clarity" beyond aesthetic and technological descriptions of high-definition visual media into a metaphorical judgment of contemporary cultural practices counterposed against those of the embarrassing 80s and 90s. We can see more clearly now; just look at the sharper images on our screens as proof! Charles Acland has recently raised some provocative questions about the increased academic focus on new media forms, suggesting that an intensified attention to new media technologies follows the capitalist logic of consumer electronics industries. I wonder if the deployment of analog technologies for comic purposes carries a similar logic. Tellingly, I watch these videos through my laptop screen, which provides safe historical, technological, and ontological distance from the "bad" object.
Ultimately, the Found Footage Festival and Everything is Terrible! afford me an opportunity to interrogate both my own responses to "unintentional" humor and the logic that newer technologies equate to a necessarily "better" engagement with visual media. Of course, this negotiation may also just be a way for me to have my cake and eat it too. I can take issue with the presumption that analog technology and its various users are deserving of scorn, but that does not mean that I am going to stop laughing at Danny Bonaduce's Mortal Kombat.