Late to the Party: Twin Peaks (1990-91)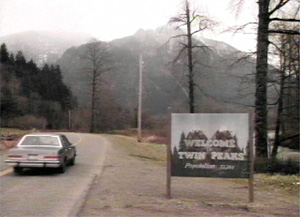 I am no stranger to catching up on television that I missed the first time around, but there is something particularly ominous about Twin Peaks.
It is surprisingly ominous, at first glance. Generally speaking, a two-season run is not a substantial time commitment, and the series is now readily available on DVD (and all but the two-hour pilot is streaming on CBS.com and Fancast). Compared to the six seasons of The Sopranos or the seven seasons of The Shield sitting on my bookshelf, Twin Peaks should be easy.
And yet it's not. There is a mystique surrounding Twin Peaks, both in terms of its cult status (fueled by Lynch's cultural cache) and in terms of the oft-discussed mystery of who, precisely, killed Laura Palmer. While I may not necessarily be hugely familiar with Lynch's work, I know enough to be comfortable with his perspective, and I am thus far unspoiled regarding Laura Palmer's fate. My problem is not that I do not understand this mystique, but rather that some part of me feels I know it too well.
Some part of me is convinced that I know what Twin Peaks is about. I know it features a particularly esoteric performance from Kyle MacLachlan, I know it features vivid dream sequences, and I know that it takes place in a small town. This knowledge comes not from trailers, Wikipedia or IMDB; it comes from hearing people talk about it in passing, seeing references to it on other television shows (The Simpsons' "Who Shot Mr. Burns" is particularly influential in this area, and Psych is doing an homage in December), and by seeing it used as a reference by networks when they want their small town mystery show to spark fond memories of the series (ABC's Happy Town being the most recent example).
One could argue that I should have had similar problems with Buffy the Vampire Slayer, but since Buffy ran for seven seasons I felt comfortable it would have sufficient time to define itself independent of the hype. With Twin Peaks, I presumed that the mystery is the show, and because that mystery has become such a pillar within modern discussions of serialized television its influence seems almost too strong. I imagine it's how the next generation will feel about The Wire, although I'll likely admonish them for hesitating much as you are all admonishing me as you read this.
Of course, as you already knew, the second I sat down with the Twin Peaks pilot I was transfixed. Its haunting credits are an immediate palate cleanser, an establishment of tone so distinctive that it erased the majority of my preconceptions.
The credits create mysteries with no connection to my previous knowledge of the series. The images, which prove central to the series' broader mystery, were completely abstract: the saw mill has no meaning (especially when the title doesn't appear for forty seconds), the waterfall has little significance, and the still water of the river has even less. And what do we make of the bird who opens the credit sequence? These may seem like small questions, some of them likely revealed to be fairly insignificant to the mystery of Laura Palmer's death in subsequent episodes, but Twin Peaks is mysterious, not a mystery. Knowing that it is Laura Palmer on that beach before the show tells us does not change the fact that her death is just one part of a larger whole.
Twin Peaks is a messed-up town, filled with elements I think comfortably qualify as melodrama: numerous abusive relationships emerge, and there are enough illicit affairs (spread equally among both young and old) to make one suspect there is something in the water. And yet Lynch stages it all in what I'd (perhaps naively) consider Lynchian style, with the same kind of abstraction that defines the credits. Laura's parents learn of her death on separate ends of a telephone; we linger on various objects, body parts, at times when it seems unnecessary; the flickering lights in the hospital are echoed at the Town meeting. The atmosphere, so fundamental in the credits and so paramount throughout the pilot, puts familiar elements into an entirely new context, regardless of what decade we're watching in.
I have yet to get to the dream sequences so prominent in the series' cultural image, nor have I been able to witness the series' supposed inconsistencies (although that seems to be a matter of opinion). It'll be some time before I have the free time to truly dig into the series, but often that first step is the most challenging. It provides a new reference point, rewriting the paratextual and intertextual constructions of the series with personal experience.
Rewriting Twin Peaks into my very own mystery.