BET's Got Game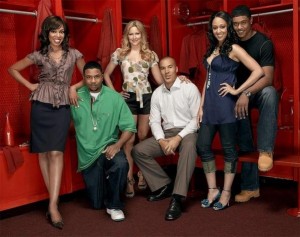 Tonight, The Game, a sitcom originally produced for and aired on The CW, premieres its fourth season on its new home, BET.  The story behind that move leaves me wondering about the future of "diversity" (whatever that might mean) on broadcast television.
The Game is a sitcom with a predominantly African American cast set in the world of a fictional professional football team.  When it premiered in 2006, it was paired up with Everybody Hates Chris, All of Us, and Girlfriends to develop a night of programming obviously intended to target African American viewers.  In a move reminiscent of Fox's recruitment and then abandonment of the same audience once it had built itself into a competitor for the Big 3 broadcasters, The CW slowly but surely canceled each of these series, with The Game and Everybody Hates Chris the last ones standing when the ax fell in May of 2009.
The series did not go quietly–the stars put together a YouTube video encouraging fans to help them save the show, and the outraged fans were happy to comply, mounting a sizable internet protest,
For a while, things were looking grim. The 2009-2010 TV season came and went without any promising news, but the story of The Game was not yet over.  Although ratings were steadily dropping off at The CW, when BET began airing reruns of the series in February of 2009, they drew huge audiences–often garnering higher ratings in the BET re-airing than they did in the original showing on The CW, according to Daily Variety.  The reruns did so well for BET that the channel picked the series up in October 2010 and began shooting new episodes over a year after its original cancellation.
In some ways, The Game's move from The CW to BET makes institutional sense.  When the announcement about the syndication deal was made in February 2009, Daily Variety quoted BET's VP of acquisitions: "Not only does it have really fresh African-American stars, but it has a great lineup of guest stars. People like Robin Givens and Vivica Fox — these are people who are regularly on our network."  And there's certainly no denying that a sitcom with a predominantly black cast can and likely will find a very happy home on BET, given its programming slate and audience profile.  In fact, the series might indeed do much better on BET than it ever did on The CW–which may well be due to the fact that The Game was not a priority for The CW, but will be a flagship series for BET.  For the series and its fans, this is certainly the best possible outcome.
But I'm not so sure The Game's happy ending is all that happy–or if it signals a dangerous shift in programming logic.  As The Root's Erin E. Evans noted in 2009, "The recent cancellation of The Game and the also popular Everybody Hates Chris has drastically reduced the number of black faces on network television."  She goes on to say that even if the series were resurrected on cable (as it now has been), it might set a dangerous precedent–and I think she's right.  Do we really want to say that cable is the proper home for stories about non-white experiences and characters?  That broadcast audiences simply aren't interested, and thus shouldn't be offered these stories?  That audiences who find their own lives represented in series like The Game can find solace on cable?  That "broadcast" means "mainstream", and "mainstream" means "white"?
I'm not sure I know the answer to these questions, but I do know that the startling dearth of non-white casts on broadcast television is something to which we should be paying attention, even as we celebrate and enjoy The Game's second life on cable.
My heartfelt thanks and appreciation to two of my outstanding students, Kiara Sims and Ayriel Warren, for their superb projects on The Game last fall–I wouldn't have been aware of this interesting and troubling situation otherwise.
Edited to add: please be sure to check out this Variety piece an this post from Aymar Jean Christian on the topic, now that the ratings results are in.