From Veronica Mars to Pretty Little Liars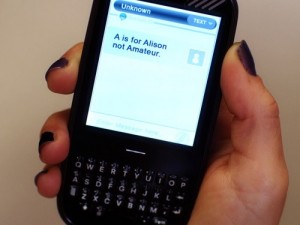 So, Pretty Little Liars has become my most recent obsession. It's partly that combination of recognition and nostalgia that makes me proclaim "It's like Roswell's spirit infused into Veronica Mars' driving serial storyline, dressed up in Gossip Girl's clothes." Indeed, crucial to my experience of a show like Pretty Little Liars is the running comparative commentary in my head, based on my personal preferences and viewing history of teen-now-millennial television.
Today, I'd like to consider the way in which the series revisits and revises some of the key themes that made Veronica Mars so compelling, and merges them with Gossip Girl's vision of the power of the socially-networked millennial generation. Channeling Veronica Mars we have the themes of male power and female vulnerability; female strength and male disconnectedness; the strength of millennial networks (in this case—and in contrast to Veronica Mars—mostly female networks); and the fascinatingly repeated trope of the dead, sexually-promiscuous girl at the center of the mystery, who haunts the narrative in potent flashback.
In Pretty Little Liars, this dead-but-still-powerful girl is Alison, the ruler of the main characters' social clique, who was found dead after an outdoor sleepover with her friends. In the series' opening episode, the main characters (Aria, Spencer, Hanna, and Emily)  begin to receive terrorizing texts from a mysterious "A" who seems to somehow possess Alison's intimate knowledge of their secret lives. Alison thus doubly permeates the narrative, both in color-saturated flashback a la Veronica Mars and in disembodied text message, email, etc.
Where have we come from Veronica Mars' Lily to Pretty Little Liars' Alison? In Veronica Mars there was a sense that Lily had power beyond the grave to draw everyone into her mystery, culminating in Veronica locked in a fridge begging to be saved (one of the most disappointing moments of TV I can recall), rescued from death only by her father. Lily even in death was still a deeply powerful character, and revealed to be even more so with each twist to the mystery. In Pretty Little Liars we have Alison, similarly a sexually direct teenage girl, and a social power player when she was alive. Now dead, her digital extension "A" seemingly rules the characters from beyond the grave, through the millennial tools of social networking and mobile technology. She commands her once peers via text command, email, and video attachment.
Alison's digital manifestation is reinforced by her fluid and inexplicable power-through-knowledge; she seems to somehow see everything, know all, and could potentially be anyone. Indeed, if A/Alison has a counterpart in currently airing teen TV programming, it would be the anonymous and all-seeing Gossip Girl. Like Gossip Girl, A could be old or young, male or female, one or many. However, the difference in the characters' assumptions about A vs. Gossip Girl are worth noting: the teens of Gossip Girl assume their anonymous blogger to be young and female, the teens of Pretty Little Liars assume A to be older and male. In a sense, A merges the power wielded in Veronica Mars (of those already in power—older, male, wealthy, white) with the power wielded in Gossip Girl (decentered, anonymous, socially-networked).
Veronica Mars offered a targeted attack against the systems of power, with millennial social networks used as grass roots organizing to take down those in power. In contrast, in Pretty Little Liars power threats potentially come from within, and even if the murderer turns out to be the older male Ian (more likely he's a red herring), he's a) not that much older, still quite arguably a millennial and b) essentially part of one of the main character's family. But it seems more likely that A will turn out to be, if not Alison herself, one of the seemingly side-lined teen or post-teen characters who populate the margins and sometimes center of the text. Another way of thinking of this, in terms of Veronica Mars, is that Lily's murderer and Veronica's rapist become one; those in power are no longer pulling strings from behind the walls of corporate business, but rather reside in the family, in the network, using the same millennial tools as the main characters to punish and control.
A recent episode included a shout out to Veronica Mars that at first seems almost trite but actually I find quite fascinating. When Spencer indicates that they "need to find some kind of proof" to implicate the older male A suspect, Hanna replies sarcastically, "Thank you, Veronica Mars." An homage, yes, but the sarcasm suggests that the impetus laid on Veronica to fight the system is somehow already assumed, doesn't need to be spelled out, and has been dispersed among all of the young female characters rather than residing primarily in one heroic figure. I'm torn about this, because on the one hand I am coming to appreciate the way in which Pretty Little Liars offers a robust sense of the multiplicity of young female experience, empowering without idealizing multiple young women who face different challenges. On the other hand, I worry for the series' depoliticization of gendered violence as the show's narrative obscures systemic inequities. But most of all, I hope that Pretty Little Liars won't resort to that single, intensely disappointing moment where our young female heroes need to be saved rather than figuring out how to save each other.