What Are You Missing? January 16-29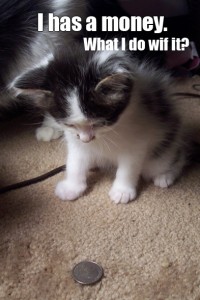 Ten (or more) media industry stories you might have missed recently:
1. This one deserves a standalone entry of its very own: Cheezburger Network, the company behind LOLcats, just raised $30 million in its first round of venture capital funding, and earned an entry in the Taiwanese animated news as a result.
2. The Internet has gotten really, really big, so big that we're running out of old-school IP addresses (but surely not LOLcats). It's not so big that it can't be turned off by an entire country, but big enough that there are even ways to get around that. After all, Mathew Ingram argues, it's not the particular site you access that matters, it's the power of the whole network that can help foster revolutions. Many are now wondering if the internet could be turned off in the US.
3. We worry about online privacy, but few of us do much to protect ourselves. Maybe if privacy policies were in the form of cool infographics, that would help out. Google is "helping out" by making it difficult for us to search for BitTorrent sites, but don't worry, you can still search for "how to kidnap a child," among other delights. But you have to work harder to find "Egypt" in China right now.
4. While Steve Jobs' health situation prompted a stock dip, Apple is otherwise flying high financially, with record earnings, revenue success in China, and big iPad and iPod Touch sales. iPads are also making a mark on global PC market share, and even the Mac is gaining again. Playboy won't be available as an iPad app now, but Rupert Murdoch's The Daily iPad-only newspaper app will launch next week.
5. Outside of the item that kiosks for the first time now have higher market share than rental stores, the ancillary market movie news has pretty much just become Netflix news: Netflix is now the number 2 video subscription service (behind Comcast); it has topped 20 million subscribers, with growth driven lately by streaming; and Facebook integration is coming next, as are more aggressive studio content fights. But it's not all puppies and rainbow streams for Netflix: Comcast could be gunning for it, sustaining its quality content and growth will be a challenge, Amazon just got a step ahead in Europe, and some instant-watch customers are annoyed at the removal of the DVD queue from their connected devices.
6. The King's Speech is gaining major Oscar momentum, racking up PGA and DGA award wins, and such indie films (or sorta-indie films, if you're picky about whose money is behind them) are enjoying more Academy love than the majors. But A.O. Scott castigates the Academy for not giving enough love to foreign cinema, thus curbing its momentum in the U.S. Meanwhile, the Hollywood's non-award-worthy films are getting more love overseas than they are at home. Unfortunately, no one loves British film…well, except for The King's Speech (a sorta-British film, Harvey?).
7. The best and worst of the Sundance Film Festival has been on display for the past ten days, and the award winners were announced last night, while last year's Sundance standouts have made a significant Oscar nominations impact. The deal-making at Sundance went pretty well and even headed in some new directions, and Ted Hope left Sundance significantly buoyed about the future of indie cinema (which includes the return of Good Machine).
8. With albums selling so poorly, music executives being tossed around, and the future of digital music still uncertain, many new ideas are coming along: "instant" singles, a digital music awards show, more niche retail stores, 360-degree music videos, happily dismissing MySpace, and Spotify, which has finally closed its first US deal (with Sony) but is wary of Apple.
9. The Nintendo 3DS is now officially on its way, at the same time some see the PSP as on its way out. Many employees are on their way out at Disney Interactive, as that division shifts from console games to online and mobile ones, and that also doesn't speak well of Epic Mickey. Disney should think about hiring the eighth grader who developed a game that topped Angry Birds, and how about some games with female protagonists?
10. Good News for TV Majors links from the past two weeks: Done Deal, Egypt Coverage, Mobile Activities, The New NBCU, Ratings Primer, Hulu Future Options, Netflix Taking Aim, Twitter Feed, BBC Sitcom Debates, Olbermann's Legacy, FCC Approves, WealthTV Sets Precedent, Golden TVeets.