What Do You Think: Protests in Egypt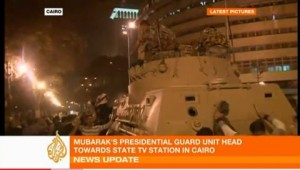 Today, the demonstrations against President Hosni Mubarak and his government entered its eighth day. Initially little covered by mainstream American press, the situation started gaining attention in U.S. media when the Egyptian government shut down internet access through pressure exerted on internet service providers.  As the situation continues to evolve, what is the place of media – both "new" and "old" – in these events?
There are so many different angles from which to approach this historical moment. As such, we at Antenna wanted to open up discussion among our readers and contributors in our "What Do You Think" column. Below are a few issues we're thinking about; we invite you to add your take and/or your questions.
How are mainstream American television and other media outlets constructing and circulating particular narratives in relation to these events?
What do we make of the turns to "old media" (faxes, dial-up Internet, landline telephones) in response to the unprecedented constrictions on "new media"? How is this being covered by news agencies and/or commentators?