The Unicorn That Roared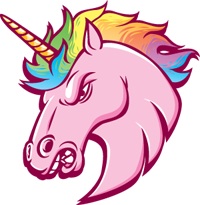 On my first evening of SCMS in New Orleans I met some friends in a larger group in a bar in the Quarter and got the weirdest response when I introduced myself as an independent scholar: "I didn't know independent scholars really existed. I thought they were like unicorns!" And there it was in a nutshell. I don't exist. Or rather, the reality of scholarly life is that the only people who are visible, who have a voice, who can offer advice are the ones who successfully make a living that includes their academic work. This post then is not meant to be a call for pity for my particular situation or a rejection of all the excellent points made in the aftermath of the conference but rather a possibly much needed reality check. Because I know that even as the bad job market is a haunting reality for most grad students, it's also a gamble every one is clearly willing to take, deep down surely believing that they will beat the odds. After all, everyone whom they encounter and interact with has done so, right?
The problem of having these conversations within the confines of SCMS and its surrounding social networking tools is that we're already dealing with a pre- and self-selected group. Said differently, if SCMS hadn't been held driving distance from where I live, I would not have been part of that conversation nor would I have had access to the members-only section in which part of these discussions were held. The only reason I can speak up now is that I am a unicorn, the mythical creature of the scholar who researches and presents on their own dime for the love of it. It's an expensive and depressing endeavor and it clearly has no place in an academic organization: my name tag had the university affiliation where I am an adjunct rather than the independent scholar as which I self-define and how I was thankfully noted in the program. Not a big deal, except when you supposedly represent a school who can't give you even a table, let alone a shared office, to call yours and that rewards your 2/2 load with a yearly four-digit income.
There are many reasons I ended up being a scholar but not an academic, and many of them are my own choices and decisions. So I may indeed not be the best person to question the ideals of meritocracy and the hopeful and encouraging advice seen various places, but who else can speak as and for the many who didn't make it. And maybe every one of us made choices like I did, family and locality and external circumstances affecting our mobility. Or maybe every one of us really just wasn't good enough. It's easy to believe that, both when you made it and when you hope to make it.
I know it must be a real comfort to grad students to be assured by faculty that it gets better. And in many cases it does. I just want to remind everyone that this resounding positive chorus is so unanimous because everyone for whom it didn't get better, everyone who didn't get that job, everyone who left or makes ends meet with outrageous class loads, all of those are by definition not part of this conversation any longer. Academia often becomes an echo chamber where the only voices heard are those that already are privileged.
Of course, I am well aware that I'm privileged in my own way. I can publish or not, don't need to worry about researching the right topics or where to publish, and I can write rants like this one without fear of repercussion. Unlike grad students and junior faculty, I have privileges only shared by senior faculty in that my worthiness isn't measured in cv lines. That's the beauty of being a unicorn. The costs, however, both emotional and financial, tend to be too extreme for many to bear, especially when it means repeatedly facing an established community that often prefers to not acknowledge the realities we represent. It does get better indeed! Just not for everyone.